The collapse rate of eCommerce sites is high, with 97% experiencing failure. The reason why so many go bust is causally related to their inability to meet basic website requirements. A successful vendor must create an online store that retains traffic and successfully converts a visitor to a buyer.
First impressions matter with a retail store. If you walk into a brick and mortar establishment to make a purchase then you want to feel welcome. If the store offers excellent customer service and provides you with a nice variety of merchandise then the chances are good that you will return. The same is true for an eCommerce site.
The following things are necessary to ensure a positive buying experience:
web page loading speeds,
intuitive design,
helpful features.
Having a website functional requirements' checklist will ensure that your eCommerce store meets your customers' needs.
In this article, we are going to look at the website requirements list needed to compete against the big boys on the internet. You'll learn how to make a successful eCommerce site that stands out from the pack.
Let's take a close look at the 12 website functional requirements' checklist, so your business gets off the ground running.
Your Website Requirements Will Help Guarantee Return Clients
The first step in your adventure of building a successful eCommerce site is to choose a domain name. When looking at your website requirements list, you'll want the website to stand out. The name will be the first experience of your brand, and it becomes a placeholder for your minds that will, hopefully, live on in your client's memories.
A proper domain name for your online shop will allow you to deal with things like:
Being forgettable;
Negative SEO impacts;
The first-time visitors will figure out the meaning of the site clearly.
The domain name you pick must be available for purchase. It cannot be identical or closely match any other business. Picking a domain name is hard work. You want to convey your concepts and feelings. The name needs to also be easy to remember. Think about if you want the moniker to contain a certain phrase or keyword. Now, look at your budget as you start to shop. An unregistered domain is cheaper than an established domain which is going to carry a high price tag.
We collected some insights and tips on how to pick up a good domain name for an eCommerce site:
Use relevant keywords in a domain name. Tools like Google Keyword Planner or KWFinder will help you to deal with it easy, but pay attention only to keywords with low competition and a high search volume;
DomainWheel may help you to generate the best ideas and available to purchase domains;
Be unique and creative, while clear and concise.
1. Choose and Purchase a Domain Name
You'll need to choose a server, hosting, and domain name to pave the way for eCommerce business success. Without a doubt, website accessibility and performance matter at all ties. You must choose quality and avoid trying to cut corners by cost-saving, especially in critical areas such as support and web hosting. You'll want to consider what is required for a website, so you can make a detailed list of exactly what you want and need. Having a plan laid out is a great way to succeed.
Web hosting is where your content comes alive. Magento 2's hosting services can help you achieve the goals you need and core hosting benefits include:
Easy installation;
Guaranteed compatibility;
You won't face performance issues;
No hidden fees;
Heightened security.
The two most frequently used forms of hosting includes eCommerce programming requirements:
Shared Hosting
You'll share the server with one or more other websites. Think of it as renting a small space. You have to share with the others in the household.
Dedicated Hosting
With this form of hosting, you get your own completely dedicated server. You do not need to share it with anyone else. This is a necessity for any large eCommerce site but for most, it is not needed.
2. Take Care About Proper Web Hosting
Speed
One of the web hosting requirements is speed. You need an impressive website speed. If a page laid takes longer than a couple of seconds, your customers will navigate away from the site. The attention span of people is notoriously short. People don't want to wait around. They quickly grow tired of waiting, and you lose a sale.
Uptime
Always check uptime records by examining other websites that are currently being hosted by the particular provider to gain a crystal-clear picture of what they are offering. You don't want any surprises.
Support
You want to manage services that offer the support you need and require. Don't settle for some lacklustre company to save a bit of cash. Instead, pick a company that is known for its stellar support.
Security
An eCommerce site has to be trustworthy because they accept payments. You will need a server that is completely PCI-DSS compliant. Data security cannot be understated. You need security to protect not only your business interests but your buyers.
Scalability
The server has to be big enough to meet your needs effectively. You do not want your website to crash because the traffic has overloaded the situation.
Let's Look at a List of Website Requirements and eCommerce System Requirements: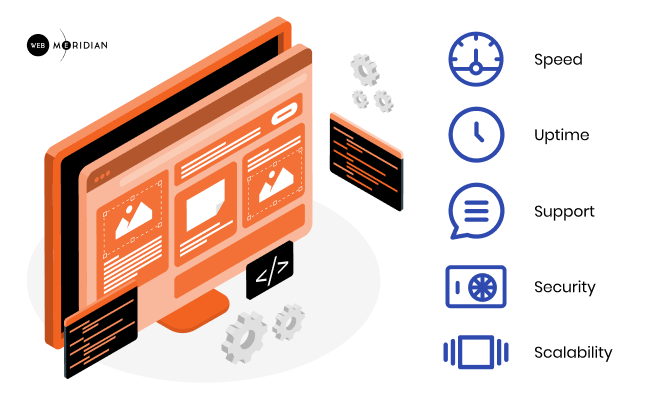 In choosing the best eCommerce platform, comparisons can come in handy and make it easy to know what will work best for you. So, let's pit them against each other, based on their biggest selling points in the table below:
3. Choose the Best eCommerce Platform
| Magento 2 | Shopify | WooCommerce |
| --- | --- | --- |
| There is a free community version and premium services. | Shopify has a 14-day trial to test before picking a plan. | WooCommerce is entirely free. |
| The community version of Magento is self-hosted. | There is an entirely cloud-based hosting. | You will have to find your web host. |
| There is support for hundreds of extensions and offers on several options. | The range of tools on Shopify is adequate. | It has an extension system with many of the most useful ones. |
| Magento is known for having one of the most advanced security systems in the world of eCommerce. | Shopify has a standard level of security. | It has basic security to protect your website/store. |
People are lazy when they visit a site. They don't want to click around and play a game of 'find it if you can'. Things have to be easy and with minimal navigation – think user-centric and responsive design. eCommerce Magento meets and exceeds those needs.
4. Consider the Best Practice of User-Centric and Responsive Design
Let's take a few minutes to explore website design requirements.
Content is king, and it is an integral part of your webpage. If you have a flashy and visually pleasing website, it is nice, but it is a useless space if the content is not helpful.
Seamlessness, frictionless, and fast, is what people want to experience. All website designs should contain the following pages:
About Us
Let your customers know about you and your company. You need to reach out to your clients and humanise yourself to become memorable and retain customers. On the 'about us' page, you should explain who you are and your business's basics. Also, cover the products. Let them know how you can help. This is a great place to push your website's personality and interests. You'll want to build your image and brand here.
Contact Us
Your customers will need to contact you with questions, so ensure that the 'contact us' options are clearly defined and work.
FAQs
The 'frequently asked questions portion of the site is often overlooked by developers or designers, but it's important. Consider the space your own private platform to go on about your business and let customers know exactly what it's different and stands out from the pack. Everything featured on the page should be clear, concise, and friendly. Answer your customers' most pressing questions.
Products
An eCommerce site is all about its customers. You want them to be able to find your products easily and instantly fall in love. Outline each product's particulars, so they have the answers to all of their questions. Your product page is like the bait on a hook attached to a fishing pole. You want the customer to take the bait to hook them and reel them, which means making the final sale. You want to have tasty bait to make the hook, and the bait is the product page. In addition, this area should be filled with valuable SEO and acceptable keyword density, so you can draw customers in.
Website Design Requirements

Just about everyone has a smartphone, and they are now using them to shop. A few years ago, one study showed that 59% of the sales on eCommerce sites resulted from mobile use. That number has only increased each year, so a mobile optimised website is now a must-have. If your website doesn't support mobile shopping, you will lose a lot of critical sales.
5. Mobile Optimisation Is the Must-Have
Speed is the name of the game and website catching is the lead horse in the technology race. You want a fast eCommerce site that renders better SEO scores and also pushes user satisfaction to new heights. What does that all equal? Better conversions and added revenue. You can emerge a winder in no time by selling your products based solely on website cache satisfaction.
6. Website Caching
When exploring what is website security? We have to look closely at all aspects of the eCommerce experience. Cyber threats are real, and they are increasing every day. In many cases, people are afraid to shop online. They want to stick to the big boys like Amazon because they feel secure. You have to provide a secure site where your clients feel safe making a purchase.
7. Security at the Core
As outlined above, when detailing website catching, speed matters for a well-rounded customer experience. If the site bogs down, then your would-be customers are going to navigate away from the site. It is imperative that an eCommerce site responds in a timely fashion. Caching and in-memory technology are viable options to speed up the site. They have the capability of holding an entire product catalogue, site/search indexes, customer information, and more. The technology relies on RAM on a server and stores the data directly in it.
8. Website Speed
What is needed to build an eCommerce site is an eye-catching content. Presentation matters. You want your products displayed with eye-catching photos. Also, the site should boast authentic testimonials that show pride in your products.
Content marketing is also imperative. Overall, your website must look good, navigate easily, and meet the needs of your customers. Each product would have a description that provides all the most pertinent need-to-know information to help drive the sale so the buyer does not navigate away from the site.

SEO scores your website a top spot on a Google search. Anything less is unacceptable. Shoppers are notoriously lazy. They will rarely go beyond page one of their search results. In order to attain a top rank on a search engine, you must have a truly high-quality SEO.
When exploring SEO tips for new websites, you should always go with an expert in the field who knows exactly what they're doing to ensure that your site ranks high with any search engine.
10. Ensure High-Quality SEO

Shoppers do not want a complicated transaction. The entire process should be quick and easy. They should feel secure at all times and enjoy the process. If things become too complicated, then many shoppers will abandon their carts without finalising the purchase. Shipping packaging perks are also ideal. Buyers love free shipping and to know that the packaging of their purchased items is secure.
11. Painless Transactions
Building your eCommerce website might look complicated, but we have six years of experience. Our team has helped retailers quickly and effortlessly level up their business. If you have any questions, please contact our experts. We will be happy to clarify everything, so you can immediately get started on learning your website requirements list, so we can help you build your site.
12. Thought-Out Packaging and Shipping Summary Final Thoughts
It's a lot to take on for one person. You have to think about security, design, hosting, maintenance and other pertinent additions to make the whole thing functional.
If you have any questions about what is required for a website or would like to know more about building your own online store, please contact us to learn how we can help you. Our team welcomes the challenge of working on something new. It does not matter whether you are just starting or trying to scale up; we have everything for everyone.
Summary
Build a Website That Will Guarantee Return Clients
Explore More