Magento 2 has earned its place among the most renowned eCommerce platforms in the world, and for good reason. It is flexible, SEO-oriented, feature-rich, and offers tremendous storage capacity. Small wonder that it features in the list of top 10 eCommerce platforms.
Today, Magento is known as Adobe Commerce, since it has become a constituent of Adobe Inc. While Magento 2 is undeniably an efficient framework that can handle large stores, your organization may still need a more customer-oriented approach. After all, your clients are (or should be) the primary focus of every sale.
To achieve this, you can use Magento CRM software that will increase the productivity of your website and help establish your customer-focused activities.
The sheer number of available Magento CRM systems may seem overwhelming. To help find the right one for you, in this article we'll outline the seven best Magento 2 CRM integrations, complete with descriptions, characteristics, and costs. We'll also suggest extensions for synchronizing an eCommerce platform to a CRM platform.
Table of Contents
Why Does Your Store Need a Magento CRM System?

What Are the Key Features of a Magento CRM System?

What Are the Best Magento 2 CRM Integrations?

Conclusion
Why Does Your Store Need a Magento CRM System?
CRM tools help companies manage client relationships by tracking and collecting consumer information and delivering valuable insights.
A CRM system automates core tasks and streamlines procedures for aspects such as:
Marketing

Accounting

Sales

Customer service
A CRM system can also provide all stakeholders with a complete view of customer data and the customer journey. In short, CRM integrations will allow you to drive sales and cultivate the consumer experience.
Recent statistics bear witness to the rising interest in CRM solutions. About 91% of organizations with 10 or more employees use a CRM, and the whole CRM sector is expected to reach a whopping $157 billion by 2030, compared to $71 billion in 2023.
B2B and B2C Magento shops can greatly benefit from Magento CRM software. By consolidating customer-related actions on a central platform, Magento 2 CRM can boost processes in your organization.
The advantages include:
Improved administration of consumer data.

A CRM framework retains all key customer information in a single place, for all stakeholders to easily access it.

Unified customer interactions.

CRM tools empower businesses to monitor their customer interactions across various touchpoints.

Greater productivity.

A CRM framework optimizes workflow by unifying activities and automating jobs.

Higher consumer loyalty.

The better your communication and service, the more likely your audience is to stick to your brand.

Enhanced inventory management.

A

CRM for Magento 2

continually monitors your stock availability, empowering you to handle your supply and demand effectively.

Extended analytics opportunities. A Magento CRM integration enables you to conduct data-based prognosis to predict future performance and revenues.

What Are the Key Features of a Magento CRM System?
A reliable CRM toolkit will help you manage fundamental areas of your operation, including sales, marketing and consumer service. The system will establish a central hub for all your client data. It will also empower you to identify your audience's needs and take the appropriate measures to meet them.
Let's take a look at the key areas in which a Magento 2 CRM should deliver.
Marketing
Maintaining a constant stream of leads is a crucial task for any company's marketing department.
An effective CRM tool supports marketing efforts as follows:
Organizes and streamlines communication through diverse marketing means

Conducts email outreach campaigns by providing design templates, monitoring email delivery and analyzing campaign efficiency

Optimizes landing page designs and content for a higher stream of leads

Enhances interactions and conversions through the website via banners, signup forms, discount coupons, and other interactive elements
Customer service
Support is an important driver of a consumer's lifetime value. A solid knowledge base and meticulous case management underpin perfect client service.
A CRM toolkit can help you gain in-depth understanding of your customers. It will also carry out automated tasks, saving you time and effort.
A CRM reinforces customer support in the following ways: 
Retains all user data in a central repository

Keeps records of all client interactions

Handles the relevant service information in one view

Prepares a selection of responses to users' questions

Automates service tasks

Allows for efficient user segmentation and attribution to the appropriate support teams

Gathers valuable knowledge about customers
Sales
A CRM provides a handy toolkit for streamlining sales tasks. The system collects data to help companies qualify their leads and direct them to the relevant salespeople, obtain insights into client requirements and ultimately rationalize a customer journey through a sales funnel.
Specific sales features include:
A smooth lead transfer from one department to another

Comprehensive control over the deal funnel

Tracking of the entire lead journey

Lead qualification

Accurate distribution of documents among sections
What Are the Best Magento 2 CRM Integrations?
There are two ways to connect the CRM platform with your Magento 2 store: 
External integration

Magento 2 CRM extensions

, specifically developed for Magento 2 eCommerce websites
Based on our extensive experience, we've selected the seven best pieces of CRM software for a Magento store and the appropriate Magento CRM extensions for each integration.
1. HubSpot: One of the Best CRMs for Magento 2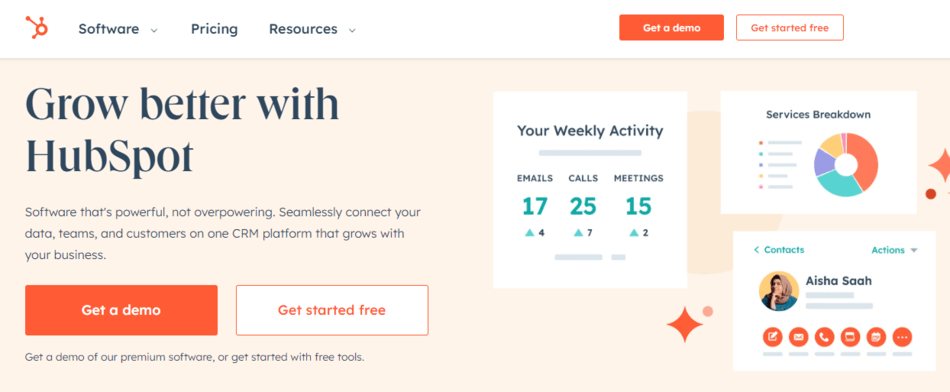 HubSpot is a superior tool for centralizing all your knowledge about your consumers. It delivers a wealth of options and features to help organizations thrive, including personalized templates, campaign administration, sales funnels and more. The framework suits companies of any size as various plans and feature sets are available.
HubSpot's CRM contains the required integrations and solutions for each area of your business and is simple to operate.
Features
Automation of multiple procedures

Smooth integration with social media profiles

Convenient interface for centralizing data

Management of each lead's progress

Extensive reporting
Pricing
Free plan

Starter: $30 per month

Professional: $1,600 per month

Enterprise: $5,000 per month
Extensions
HubSpot Magento 2 Integration Extension by CedCommerce

. Helps

connect Magento 2 to HubSpot

in real time by synchronizing all your vital information, including orders, deals, items and abandoned carts.

Unific Connector for HubSpot by Unific. Maximizes your customer-centric marketing by creating exceptionally personalized customer experiences.
2. Zoho: Superior Magento 2 CRM Integration for Small Organizations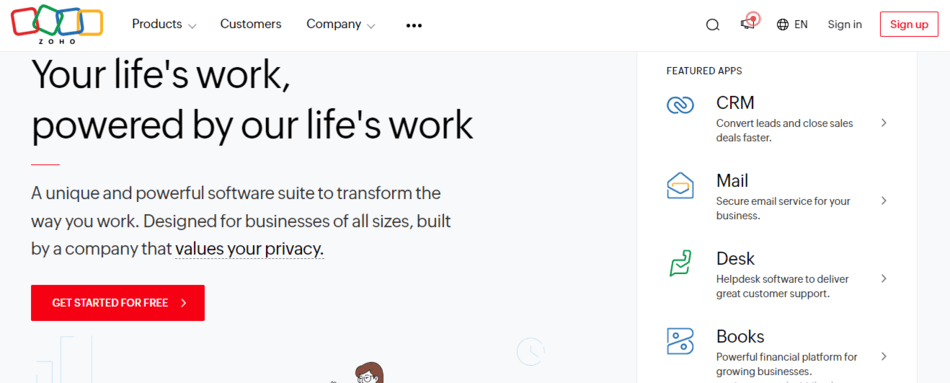 A compelling CRM tool for boosting your commercial operations and streamlining projects. Magento 2 Zoho CRM integration provides a bundle of applications to match your needs. The tool empowers users to run the synchronization of essential information with Zoho CRM and automatically measure their store's performance.
Features
Refreshingly straightforward to use

AI-backed virtual assistant

Opportunity to run comprehensive ad campaigns

Clear and convenient interface

A wealth of integrations and add-ons

Complete administration of leads, contacts and deals
Pricing
Free trial

Standard: $14 per user per month

Professional: $23 per user per month

Enterprise: $40 per user per month

Ultimate: $52 per user per month
Extensions
Zoho CRM integration for Magento 2 by Mageplaza

synchronizes Magento knowledge about clients, sales, invoices, items and more with Zoho CRM. Therefore, retailers can maintain effective processes and communications.

Zoho CRM Integration by Magenest automatically syncs data from Magento to Zoho, simplifying efforts to attract potential clients and conduct promo campaigns.
3. Salesforce: A Widely Favored Magento CRM Integration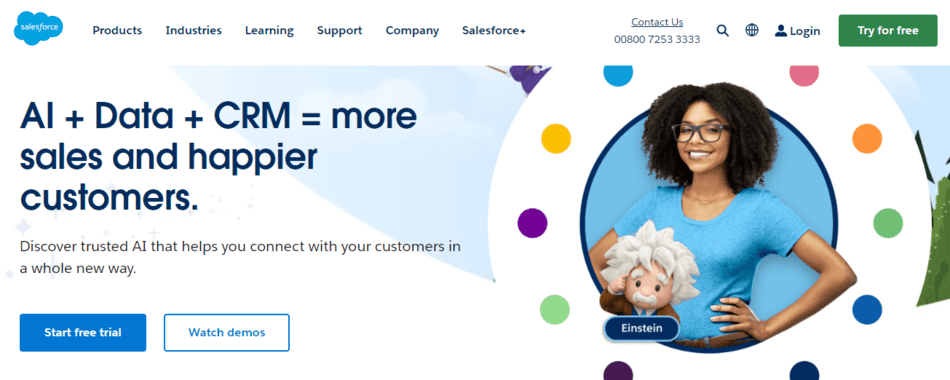 Another practical CRM integration for your Magento 2 store is Salesforce, known for its innovative characteristics and delightful interface.
Salesforce harnesses AI to shape genuine consumer impressions. Intelligent search, item reviews and other opportunities help you to gather vital knowledge and insights from various channels.
A wealth of valuable elements makes Salesforce a powerful framework for creating a consistent brand perception in your customer networks and campaigns.
Features
AI-powered analytics

Intuitive dashboard

Automatic data extraction from various sources

Scalability and security

Customer-oriented features

Accessible via a mobile app

Custom reports
Pricing
Free trial

Essentials: $25 per user per month

Professional: $75 per user per month

Enterprise: $150 per user per month

Unlimited: $300 per user per month
Extensions
Salesforce CRM Integration for Magento 2 by Mageplaza

unites both systems and automatically runs the synchronization of primary Magento objects to Salesforce.

Salesforce Connector for Magento 2 by Webkul synchronizes the Magento 2 store and all its categories to Salesforce in real time.
4. Sugar CRM: A Trusted CRM Platform

With confirmed reliability and a dependable feature kit, Sugar CRM is the ideal choice for retailers seeking a credible tool. Its functionality includes options for data accumulation, generation of reports, collecting feedback, administering clients and more.
Although the choice of omnichannel marketing strategies and automation may seem limited, the framework's undeniable strengths include delivering accurate metrics and operation prognosis.
Features
Significant customization options

Generous omnichannel support

Convenient options for campaign development

Straightforward integration with other services

Mobile app

Capability of working with multiple currencies
Pricing
Sell: $49 per user per month

Serve: $80 per user per month

Enterprise: $85 per user per month

Market: $1,000 for 10K contacts
Extensions
SugarCRM Magento Integration by DanmarCRM

closes the loop between an online shop and CRM. It operates as an

Adobe Commerce connector

with fundamental sales tools, promo campaign automations, a mobile app and more.
5. Agile CRM: A Suitable Framework for Small and Medium Organizations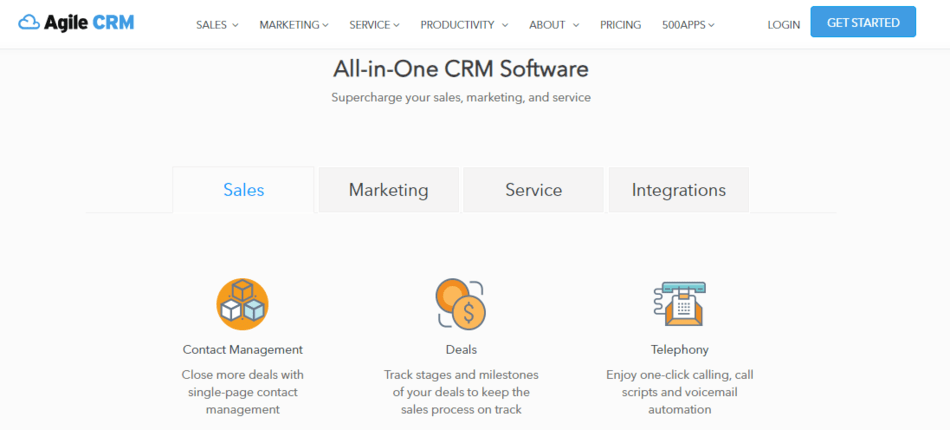 Small companies, including startups, can benefit from using Agile CRM, as it's a solid solution at an affordable price.
This integration is easy to use, has a functional interface and works smoothly with various channels, touchpoints, frameworks and other services.
Features
Affordable for organizations of any size

Convenient and clear interface

A mobile-ready solution

Rich email-marketing capabilities

Numerous templates for landing pages

Handy automations to address client queries
Pricing
Free for up to 10 users

Starter: $14.99 per user per month

Regular: $49.99 per user per month

Enterprise: $79.99 per user per month
Extensions
Agile CRM features a Magento plugin that helps you set up all the necessary connections without installing extensions.
6. EngageBay: A Lightweight and Powerful Magento CRM Option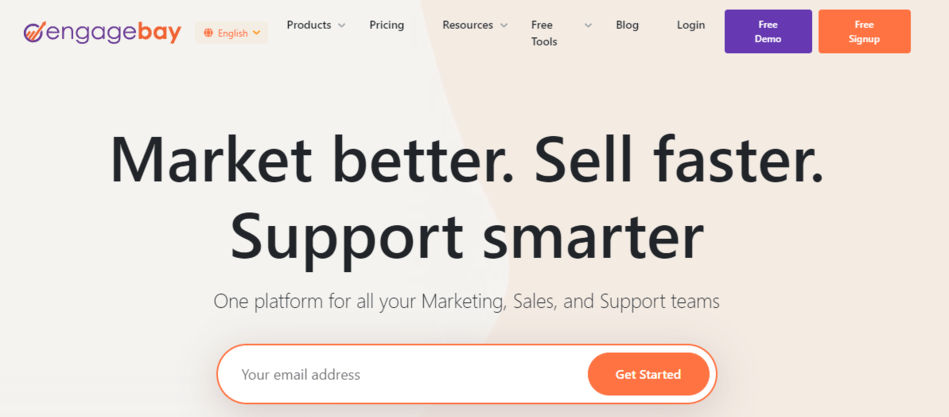 Another framework that perfectly suits small brands is EngageBay.
This CRM is a handy toolkit that helps automate sales, customer service and marketing. You can choose a comprehensive package or separate packages for each of your teams.
Although the interface may initially seem complicated, it doesn't take long to become familiar with the functionality. What's more, the customer support will help you resolve any issues.
Features
Seamless lead transfer between departments

Consolidation of all client knowledge and interactions

Promo campaigns automation

Generation of sales reports

Sales funnel and deal administration

Lead qualification and cultivating

Meeting scheduling
Pricing
Free: 250 contacts

Basic: $12.74 per user per month

Growth: $42.49 per user per month

Pro: $84.99 per user per month
Extensions
EngageBay released the free CRM Magento integration specifically for Magento 2, which you can use on your eCommerce website.
7. Vtiger CRM: The Fundamental Framework for Small Brands

Capable and fairly priced, Vtiger is an attractive CRM integration for your Magento 2 store, especially if you operate a small organization or startup. 
Although Vtiger CRM offers only basic functionality, it makes up for the limited features with its attractive price and the capability to connect Magento 2 with the CRM tool without extensions.
Features
A holistic view of Magento 2 store orders

Real-time monitoring of user progress

Options for running promotional campaigns

Easy customization and scaling

Convenient automations of routine tasks

Tools for creating reports and conducting analysis
Pricing
Standard: $42 per user per month

Single app: $28 per user per month

Custom pricing is available
Extensions
Magento CRM integration with Vtiger is possible without any extensions.
Conclusion
A client-focused approach is the foundation of modern business strategies. A customer relationship management system will allow you to consolidate all your consumer-related activities, leading to increased customer satisfaction.
If you manage a Magento 2 website, you have a wide choice of Magento 2 CRM integrations.
To get the most out of your CRM integration, we recommend seeking professional help. Here at WebMeridian, we specialize in bringing state-of-the-art technologies to eCommerce organizations and optimizing their performance for superior outcomes.
We'll help you select the right CRM framework for your business, pick the relevant Magento CRM extensions and connect the CRM platform with your Magento 2 store. We'll also provide maintenance and support for your solution to ensure you benefit from its maximum potential.
Embracing breakthrough technology requires knowledge, experience and skills. We have it all, and we love to apply it for the benefit of our clients. Contact us, and let's start the exciting journey toward the ideal solutions for your business.