Let's begin at the very beginning. When a server is deployed and a global installation is done, multistore functionalities become available. Use the cloud platform as hosting for Magento because shared hosting could affect website speed and reliability.
The following stages will lead to the creation of Magento 2 multi-stores:
The global setup is the first step in the Magento installation; 

The

Magento multistore

feature is enabled during the global setup;

During the installation process, you may choose from a variety of virtual shops;

You can create as many e-shop views as you like in each shop you build.
From beginning to end, there are just a few stages. There's more if you want to look into it.  We are big proponents of employing development services to get maximum multistore value.
Table of Contents
Multi-shop Strategy with Magento 2: Double Sales and Revenues

What is Magento Multistore?

Why Should You Use Magento 2 Multistore?

Is a Magento Multi Store Extension Necessary for Your Business?

Things to Consider Before Configuring Magento 2 Multistore

Magento 2 Multi Stores Vs Multiple Store Views | Primary Differences

Examples of Brands Using Magento 2 Multi Store Extension

Summary
When used wisely, the Magento 2 multistore strategy is profitable. The approach is not easy to implement, but with competent coders and an understanding of SEO, you can market each e-store successfully to become competitive and bring in more money independently than if they were integrated into one virtual shop.
The strategy is advantageous to any eCommerce business because: 
One may have diverse clients, necessitating the employment of different strategies, such as B2B or B2C. You may create an online store that caters to all consumer kinds.

Because each business is designed for a specific consumer base, you can easily grow into foreign markets and cater to distinct regional demographics.

You may create many brands under the same unified canopy. Each eCommerce site will provide its own substantial income stream.
Although it may appear to be a challenging task, the Magento multi store approach has the potential to increase your sales and earnings. Consult a development team to see if this is the best option for you and how to put it up properly.
Multi-shop Strategy with Magento 2: Double Sales and Revenues
GWS is available in Magento. They are the initial letters of the selections Store, Global, and Website.
Global refers to the whole platform installation; 
Website (or

Magento 2 multistore

) refers to the domain for a website that may then be used to manage many stores;

The product sections are classified as Stores. You may set up many virtual stores in one or more domains;

Magento Store Views enables the creation of several shopfronts powered by your front-end data and capable of delivering various e-shops in many languages.
The various functionalities assist retailers inappropriately serving diverse demographics of their client base.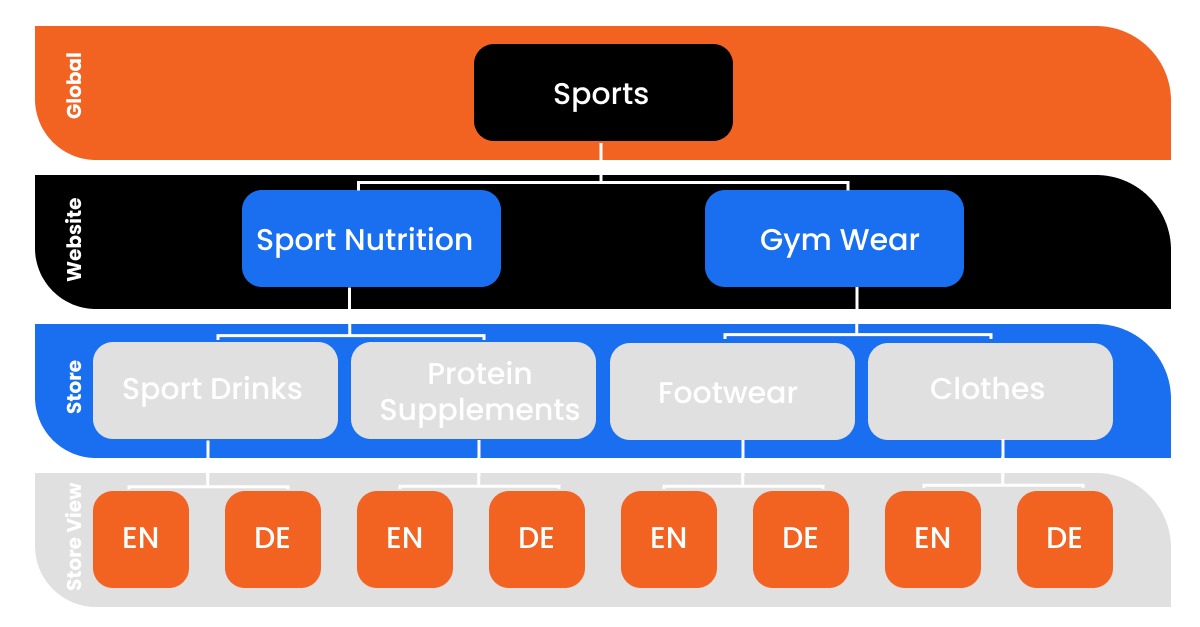 What is Magento Multistore?
Running several online retails, whether as a rookie or seasoned merchant, is a breeze if you have competent development services and are using a platform like Magento. As with anything, there is always a need for potential benefits and challenges.
We will look at all areas of using the feature, highlighting the challenges and how to overcome them.
Why Should You Use Magento 2 Multistore?
The Administrator Holds Absolute Control
A merchant may handle everything, even the backed, from a single administrator panel in a multi-store environment. One panel manages only one site in a single e-shop.
Localisation
Localization entails being a good fit for the different customer groups you serve. For example, you may build up a store to cater to clients speaking different languages, or you can put up country-specific virtual shops in countries where you have a presence.
Customer Bases That Are Specifically Targeted
You can effortlessly target each client base with distinct virtual retails. Consider a clothes e-commerce site that is divided into virtual retails for men, women, and children.
In a single e-shop, you will be unable to build distinct and unique user groups, nor will you be able to adequately target each base in order to produce more traffic overall.
Hosting Multiple Brands to Increase Diversification
When you just have one brand, your traffic is constrained not only by a lack of clarity in the categories hosted but also by suboptimal sales. With brand separation in a multistore environment, you can attract more customers and enhance overall revenue.
Hosting a Variety of Vendors
Using the multistore option, you may rent out space on your website to other sellers for their items, similar to how Amazon does. This option will not be available in a single virtual store, which narrows the product categories available, restricting visitors and, as a result, sales.
Order and Shipping Management
In a multistore setting, each vendor will handle order management, not the site owner. It is more convenient than a single store, where the site owner is in charge of all client orders. Shipping could not be easier, as each vendor sets its own shipping prices.
Payments
When you enable multistore, all payments are sent to the merchant account administrator. The fees are then checked and transferred to suppliers by the administrator. All payments for single online retails are sent to the admin's merchant account.
Backend
In multi-shop mode, the online retail owner does not control every backend. Each seller in the shop has protected access to their sections. It simplifies the process of uploading and maintaining settings and goods. The site owner has complete control over the whole backend with the single virtual store option.
The Core Advantages of Using Magento Multistore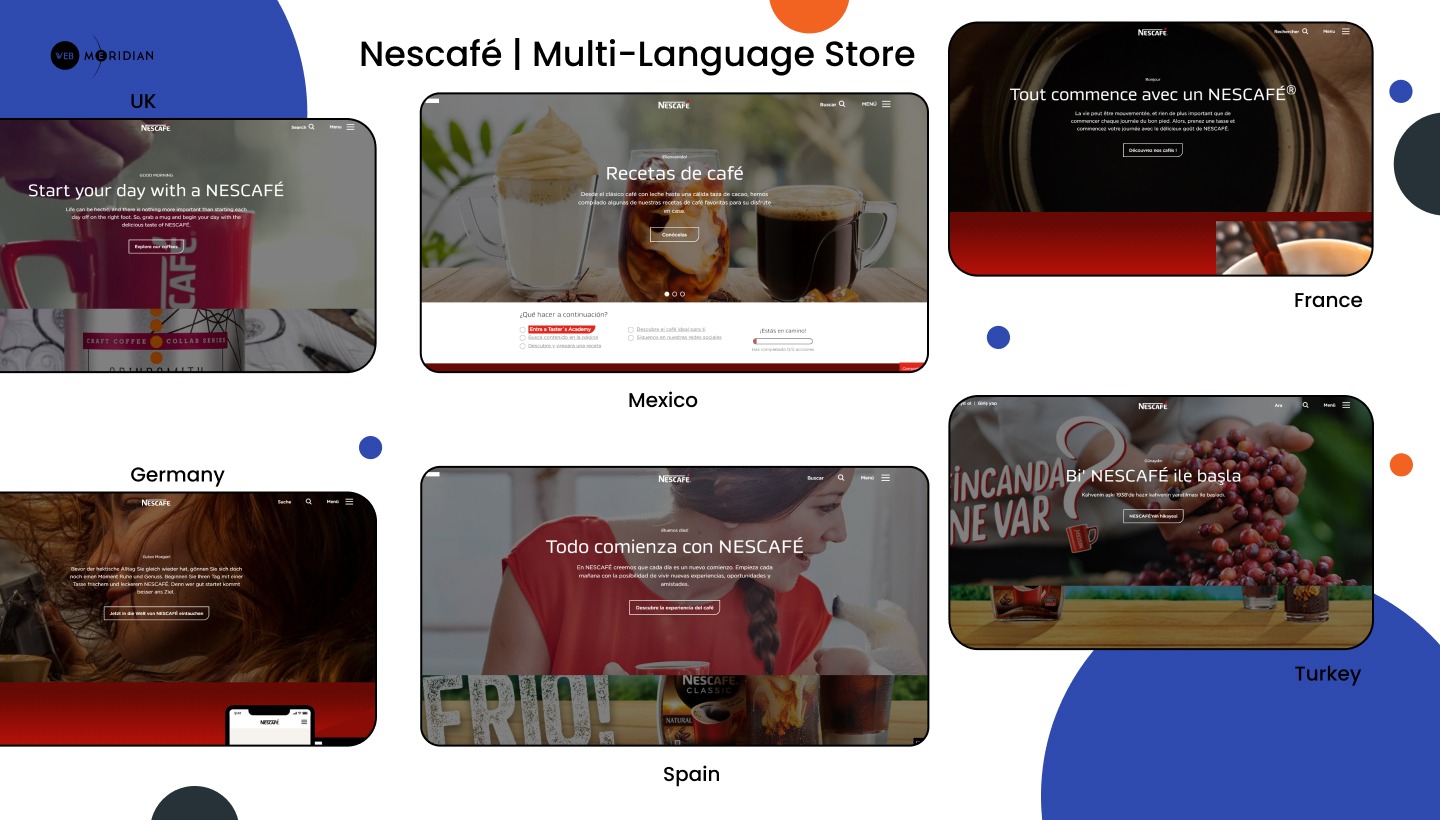 Success Story of the UK-based eStore That Has Boosted Conversion Rate With Magento 2 Multistore
Read On
As valuable as the multistore functionality is, it does have certain limitations. Here are a few examples:
there is no way to configure different payment or delivery methods for each virtual shop; 

you cannot modify the tax structures in Magento multiple stores; 

you cannot maintain a separate inventory with e-shops; 

and you cannot manage any configuration settings across Magento multiple stores.
Primary Challenges
We've covered what the multistore concept includes, what you can do with it, the advantages and disadvantages. Consider the scale of your business, the potential consequence of operating several virtual stores, and your capacity to manage each one properly to determine if you require this feature.
Is a Magento Multi Store Extension Necessary for Your Business?
Even though creating Magento multiple e-commerce is easy since no technical or code problems have to be solved, there are some minor obstacles you should know about:
The SSL Certificate's Restrictions
A single SSL certificate is issued for a single domain (IP address). You have several domains that require security. Consider using: 
Wildcard SSL to incorporate all of your domains. 

Subject Alternative Name (SAN) certification for shops in various domains. It simplifies administrative tasks and is reasonably priced.
These alternatives will safeguard you.
The Assumption That Sharing IP Addresses affect SEO
Many people believe that sharing an IP address for all of your subdomains would have a detrimental influence on your SEO efforts. This is absolutely not the case. Many successful online businesses run many websites from the same IP address. Use the power of outstanding content to make your website stand out and avoid copying and pasting information from one shop to the next.
Extension Issues
Sometimes the extensions work in one sub-domain but are not usable in the others.   It is critical to realize that everything remains on one domain until you update the Magento multi store extensions in their entirety. Even while not using the multi-store functionality, one may have extension concerns.
Things to Consider Before Configuring Magento 2 Multistore
To obtain an understanding of the multi-shop ecosystem, we must investigate the following: 
structure kinds; 

the value they provide to users;

how useful it is for a merchant.
This may be accomplished by comparing Magento multi store vs multi website vs multi-shop view.
Magento 2 Multi Stores Vs Multiple Store Views | Primary Differences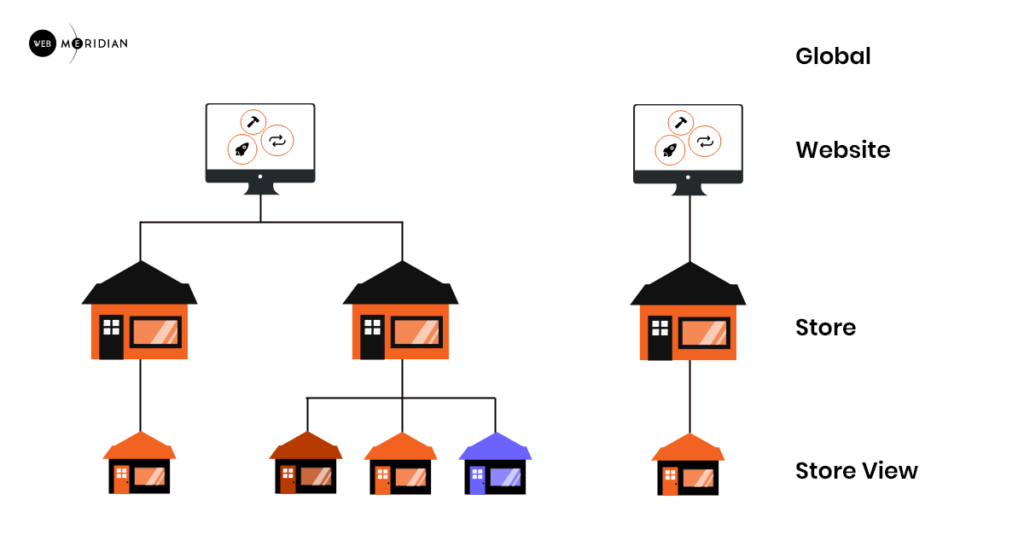 Multiple sections with various goods and services can be added to a single domain. The store looks to be a distinct business, with all items in a single domain. This tool makes it simple to locate things or products on any website.
The admin experience is completely fulfilled with a comprehensive view of all stores, providing a site owner with unparalleled power from a single dashboard.
Magento Multistore
The overall installation of Magento entails the establishment of a website that maintains unique customers and has a distinct customer-based workflow.
Multistore mode enables site owners to build many distinct stores, select payment methods, configure delivery, and is compatible with all major currencies.
The key benefit of the Magento 2 Multi website over the Magento Multistore is that it merely maintains customer data and does not contain particular product descriptions or categories.
Magento Multi Website
Every Magento store has an online-shop view by default, which site owners use to store content and information about items or services.
The default setup also enables the displaying of stores in multiple languages, increases the emphasis on adjusting design aspects to bring uniqueness to each store, and eliminates the need for separate shipping configurations.
We cannot let you go without some more tips in the end. 
Magento Multi Store View
Interactive Calendar With 27 Must-Attend Top eCommerce Conferences for Each Market Participant To be Ahead in 2022
Get The Bonus Doc
What can be better than lists of benefits? It's proof. 
We have clients who have their store extended with Magento multi store extension and use all powers of its functionality. 
If you want to learn more about these successful cases, please check our Portfolio.
Some aspects of the multistore format may be challenging to understand and may need more than a basic understanding of executing operations. It takes effort and practice to optimize each virtual shop and configure it to reflect a distinct company.
We suggest development services to properly and swiftly bring retailers' concepts for their establishments to reality.
Summary
We Can Solve the Technical, Technological, Online, and Offline Issues Most Ecommerce Traders Face
Contact Us
Magento 2 Multistore FAQs
In Magento 2, How Can I Install a Shop View?
Create a new shop view in Magento 2 by following these steps: #1. Click Stores on the Admin panel. Select All Stores in the Settings section. #2. Make the following changes after clicking the Create Store View button: Select the parent store of this view in the Store box. #3. Click Save Store View when you're finished.
What is the Difference Between a Website and a Store?
A website where you may buy items and services is known as an online store. In certain ways, an online store is a unique type of website. If you're not sure whether you need a simple website or an online store, consider if you want visitors to be able to order and pay for items displayed on your website.
Get eShop Optimisation Checklist
made by our Adobe Certified Experts. Let's dive deeper into the list of features, navigation improvements, blocks, and hottest Magento development trends worth implementing.