In the era of the Internet and pervading digitalization, businesses are either moving online completely or establishing their online presence parallel to owning brick-and-mortar facilities. Numerous furniture stores have already joined the trend. Whether you are planning to enter the digital environment with your shop or reinforce the performance of your existing e-commerce furniture website, your endeavor requires meticulous planning.
To begin with, online furniture stores can become a beneficial venture. The furniture retail market is currently estimated at $30 billion, and according to forecasts, this lucrative segment will generate over $40 billion in revenues in 2030. The average value of home furniture online orders in 2023 has been nearly $422.
With these enticing market opportunities in mind, you should develop a thoughtful strategy to maintain a competitive edge for your furniture store website. Your storefront is the face of your business, and it largely determines the consumer's eagerness to continue browsing and moving to the further stages of the buyer's journey. 
How to create an online furniture store that captures attention and appeals to visitors?
We offer a selection of features and attributes of a stellar furniture website, explore the costs and advantages of establishing an online store, and bring enthralling examples of furniture shops for more insights and inspiration.
Table of Contents
What Features Are Must-Have for Home Furniture Online Stores?

Advanced Features for eCommerce Furniture Stores

Best Practices for Building Online Furniture Stores

How Much Does it Cost to Build an Online Furniture Store?

Benefits of Creating Online Furniture Stores

Top 3 Online Décor and Furniture Stores for Inspiration

Summary
What Features Are Must-Have for Home Furniture Online Stores?
To maximize the performance of your online furniture store, you should regard the following fundamental features.
1. Set up and manage user profile
Customers must be able to create and handle their profiles easily. The interface of your e-commerce furniture website should be clear and friendly for the swift establishment of a username and password.
The primary role of a profile is to provide authentication, personalization, data storage, customization, interaction history, and more. It contains all the vital functions, allowing a visitor to perform the desired actions promptly and seamlessly.
Additionally, the registered users may be eligible for special purchasing conditions, promo offers, and other bonuses.
2. Register through social networks
While the opportunity to set up and operate a profile comes without question, recent years brought about additional demands and expectations. Thus, the apps that enable users to log in with their social media accounts are gaining traction.
This functionality is particularly convenient for consumers since it simplifies authorization: they don't need to compose and remember additional usernames and passwords. 
3. View product catalog
In a physical shop, customers can enjoy the closest exploration of the items they like. When developing an online furniture store, merchants should ensure that their visitors will likewise get a breadth of ways to investigate a product. Furthermore, furniture websites increase the speed and comfort of product search since users can perform it from their homes.
Therefore, make sure that your product catalog is detailed and illustrative while your ecommerce software provides effortless navigation and intuitive design. The core elements to highlight in your product catalog include a search bar, the key product categories, and the related pieces in the description area.
4. Product description and quality photos
We have already touched on the importance of presenting the furniture pieces in a most illustrative manner. Product descriptions and photos are the primary means of product presentation. Make the descriptions as precise, clear, and detailed as possible. Include the design type, materials, properties, dimensions, colors, brand, etc. 
The furniture photography should be flawless and enticing. Take pictures from different angles and provide a view of an item in a furnished room to present a real-life look. 
5. Search options and filters
A stellar furniture website is all about the exceptional customer experience. New technologies enable advanced search options and jazz up online store's navigation. 
Smart search and filters provide extended functionality that allows users to find the items they want swiftly. For instance, customers may utilize voice search or picture search instead of typing in the name of the product.
6. Product reviews and ratings
Product reviews are a mighty conversion driver. Studies assert that ratings and reviews are the top factors affecting purchase decisions. Include a client review section on your product pages and leverage this powerful marketing tool. Detailed reviews may address numerous concerns of potential buyers and ease their path toward making a purchase. 
Reviews can go in both written and video formats. Encourage your customers to share their experiences in a convenient way and let this user-generated content drive your sales.
7. Push notifications
Establishing push notifications is a nice way to maintain interaction with consumers and keep them engaged. They act as a timely reminder for users that informs them of all the actual changes to your pieces, promos, and other relevant information. 
This feature is crucial for an e-commerce furniture store since it keeps your consumers updated on the news of your shop and beyond and facilitates customer communication.
8. Diverse payment methods
Users have different preferences regarding payment methods. The lack of payment options may divert consumers from purchasing at your store. Therefore, ensure that your online furniture store features comprise the availability of multiple payment methods.
This functionality elevates customer experience and empowers users to enjoy all the benefits of buying at your website.
A practical technique is to utilize several payment channels in your store that encompass credit and debit cards as well as UPIs, PayPal, and wallet. Such an approach will significantly increase the customers' likelihood of making a purchase. 
9. Multiple language support
Planning a worldwide expansion? Think of the multiple language options to include in the features of your online furniture store. An ambitious ecommerce business should consider this opportunity as it simplifies customer interactions. Moreover, several language options can broaden your client base even if you operate only in the domestic market. 
10. Track product delivery
Clear shipping options and transparency in estimated delivery time are vital aspects of successful sales. Issues associated with delivery, including long delivery times, are one of the primary reasons for shopping cart abandonment. 
Therefore, it makes sense to present a precise estimation of the shipping time at the early stages of the customer journey. Furthermore, add a delivery tracker to give your customers confidence and peace of mind while their item travels to the destination. 
11. Manage product returns
Generally, your clients would prefer risk-proof purchases. Even when buying at physical stores, people may doubt their chosen item, not even speaking about purchasing online. The availability of product returns will raise their confidence by providing a back-option if the piece doesn't suit or has any issues. A transparent return policy builds trust and facilitates sales. 
12. Provide support via chat
Chatbots have become a recognized trend in online retail. The reasons for that include their round-the-clock availability, instant responses, and competent help as the chatbots are becoming smarter with the technology development.
Add this convenient tool when creating an online furniture store to save your team's time and resources and elevate the consumer experience.  
13. Manage CMS
The content of your e-commerce furniture store website is the means of communication with your audience and the tool that helps search engines identify your resource. Therefore, when building an online furniture store, you should prioritize top-quality, relevant, and continually updated content. 
A content management system is a feature that allows managing web content by several contributors. This capacity grants simultaneous access to different individuals who can compose, change, and upload content. 
Your store needs this feature since it gives you excellent control over the digital material published on your website and helps maintain accuracy and pertinence.
14. Straightforward CRM system
CRM stands for customer relationship management. The system helps embrace various aspects of customer satisfaction and amplify your customer-centered approach. It centralizes different forms of interaction between a store and its clients, collects data, and unifies customer-related activities.
CRM is among the paramount features of online furniture stores since it gives you more opportunities to delight customers, streamline consumer-related tasks, and, correspondingly, increase your sales.
Advanced Features for eCommerce Furniture Stores
Apart from the basic functionality, modern consumers also expect tricks that will even better anticipate their needs and add comfort. 
How to create an online furniture store that would surprise and evoke a word-of-mouth effect Check the list of innovative features that a furniture website could offer.
1. Let your clients create their own furniture designs
Trying themselves as designers of their own furniture pieces can be exciting for many consumers. If your manufacturing process allows for at least some degree of customization, you can delight your audience with the opportunity to craft their unique item.
Contemporary software tools allow for customizing furniture in real-time. Look how Studio Henk implements this opportunity.
The website's functionality enables users to configure their pieces of furniture in several steps by choosing the shape, frame, size, finish, and more. If you can deliver more customization options, this would only raise your score.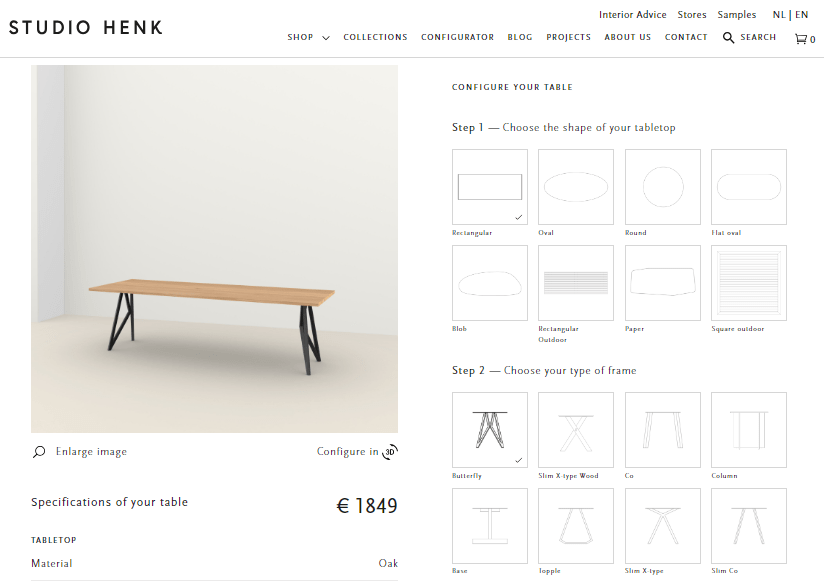 2. Suggest related products
This handy feature in an e-commerce furniture website entails a personalized recommendation system that suggests additional pieces to clients based on their browsing or purchase history.
By analyzing visitor's behavior and product data, the system generates suggestions for related or complementary items, enhancing the shopping experience, elevating sales, and facilitating cross-selling and upselling opportunities.
This feature helps consumers discover units they might have overlooked, ultimately driving customer engagement and raising average order values.
3. Allow for creating the list of favorites
Your users should have the opportunity to mark and save their favorite pieces for future consideration. The favorites feature functions as a virtual wish list of preferred products.
By clicking a "Favorite" or "Save" button on product pages, users can store selected items in their user account. This feature empowers consumers to effortlessly keep track of items they intend to purchase, compare options, or revisit later.
It is likewise beneficial for merchants as it helps gather insights into consumer preferences and popular pieces, prompting strategic decisions on inventory management and marketing.
4. Implement geolocation for higher personalization
A personalized approach is a pillar of the ecommerce business. Customers praise tailored offers, while contemporary technology expands the opportunities for this.
Geolocation tools help to better target your shoppers by identifying their local store and synchronizing their online and offline experiences. Furthermore, with geotargeting, you can develop the most relevant content with special offers, pricing, and shipping. 
5. Leverage augmented reality
AR is one of the hottest trends in modern retail. Many businesses are already reaping the benefits of this innovative technology. Indeed, you could hardly find another way to make the digital experience as real as AR does.
IKEA was in the avant-garde of adopting augmented reality. Their AR application, created back in 2018, allows users to preview how a piece of furniture will look in a real-life environment.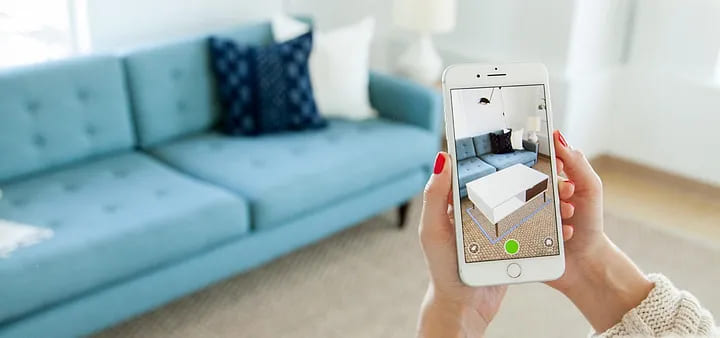 6. Include a detailed buying guide
When selecting a piece of furniture, shoppers may have numerous questions, concerns, and hesitations. Your task is to remove their doubts by competently guiding them toward a purchasing decision. A unified buying guide will give consumers a hand in a complicated choosing process.
Include explanations on how to select an item that suits customers' demands, how to return it, how to assemble it painlessly or how to order the respective service. Provide instant support through a chat and contact information for further questions. 
7. Integrate real-time dashboards and analytics
Proper data management is a pillar of successful business operations. A data-driven tool that provides instant visualizations of core performance metrics and insights into the store's activities and consumer behavior is hard to overestimate.
This feature enables real-time monitoring of various business aspects, amplifying informed decisions and optimizing strategies. The dashboards typically display up-to-date information including website traffic, sales trends, conversion rates, inventory levels, customer demographics, and more.
By delivering a clear and concise overview of the furniture store's performance, this feature facilitates timely adjustments, identifies areas for improvement, and contributes to the store's prosperity.
Best Practices for Building Online Furniture Stores
Enriching your e-commerce business with the basic and advanced features of an online furniture store shapes your background for growing sales. However, another crucial step is standing out from the competition.
Let's discover how others pave their way to prosperity by studying the brightest attributes of successful furniture stores.
Clear and convenient UX/UI
You'll never have a second chance to create the first impression. Your online store's interface is what helps you make this impression unforgettable. Make sure that the design and navigation are friendly and intuitive, and users can easily find what they need.
Convenient menus, highlighted buttons, appealing design, and relevant information – these are the things that ease customers' path and please their eyes. A superior user experience creates a strong incentive for consumers to stay at your website or come back in the future.
Efficient space planning and interior design
One of the factors that can stop a customer from buying a piece of furniture is the excessive space it is going to occupy. Competent space planning is an art that not every client can master.
Then, why not aid them in allocating their favorite items wisely? Timely and relevant advice from a professional consultant helps clients make their choice and encourages them to buy more stuff.
Besides, you can enrich your online furniture store with the attribute of delivering design recommendations. An interior designer can help consumers select their perfect piece and arrange the furniture in their homes to reach the maximum effect from the products they obtain.
Free delivery, fittings, and insurance
Furniture shopping is rather expensive, while installation can be complex. Treat your customer with extra care, such as free shipping and the services of an expert who performs all required fittings in the house.
Furthermore, include insurance in the deal that refunds a customer in case an item gets damaged during the delivery.
Loyalty programs
Acquiring a new client can be 5 to 25 times more expensive than retaining an existing one. Isn't that a sufficient reason to invest in a loyalty program?
Loyalty programs can take different forms, with the main purpose remaining the same: encouraging a consumer to stay with the brand. Repeat customers can get discounts, special offers, and other benefits based on the number of purchases they have made or the amount of time they've been sticking to the brand. 
Integrated retail finance option
Another reason a customer may refuse to purchase right away is the lack of available finances. With modern technologies, however, you can help your clients remove this concern. Partner with financial institutions that offer pay-later or pay-in-parts opportunities.
You can choose from multiple services. For instance, PayPal provides a credit option for six months with zero interest.
Building an online eCommerce store can cost anywhere from $5,000 to $10,000 for a start. Depending on the country you run your business in, the price may vary. For instance, QA testers in the US charge higher than QA testers in Eastern Europe. Some eCommerce store owners often prefer to hire a team that specializes in building the store from start to finish. However, you should budget up to $50,000 if you want a top of the line eCommerce store. Some of the small to mid-range costs are broken down below.
You can dive deeper into Magento 2 pricing and comparison of it eCommerce platform pricing with Shopify, Shopware, and WooCommerce by the link.
How Much Does it Cost to Build an Online Furniture Store?
| Service | Price ($) |
| --- | --- |
| Design | 5,000 - 15,000 |
| Programming | 2,000 - 15,000 |
| QA Testing | 1,000 - 10,000 |
| Integrations | 500 - 3,000 |
| Hosting | 500 - 2,000 |
| | |
There are several benefits of creating an online furniture store for your business. Let us take a look at a few:
Wider Customer Reach: this is the best reason to start an online furniture store. With it, you can reach more customers without being restricted by location. This way, you can expand both in size and global reach, unlike physical stores.
Run Round the Clock: with an online furniture store, you have no limitations. Customers can check your catalogue and visit at any time of day, including weekends.
Lesser Maintenance Costs: The difference between a physical store and an online store is that you can reach and serve more customers with fewer hands on deck.
Expansion: A lot of business owners intend to expand as soon as they can. With a physical store, you are limited in terms of space and personnel. But with an online store, all you need is a programmer and some additional programming.  In a few clicks, the store would be able to display more products than it initially could.
Flexible Payments: Online stores now allow the integration of popular payment methods. Customers can pay for products directly from their bank accounts without having to hoard cash around.
Benefits of Creating Online Furniture Stores
View Successful Projects Of Our Adobe Certified Developers
Our Portfolio
 Now that you know all it takes to run a successful online furniture store, here are some top furniture stores to get inspired.
 

Cox and Cox

: This is one of the finest online furniture stores in the UK. Their products are exquisite, and the user interface makes it easy to navigate the platform with ease. There are a plethora of products, including outdoor, lighting, indoor, mirrors, furniture, and a lot more. You can check their online catalogue to get an idea of the kind of products present on the platform.

Made

: Made is one of the better online retailers for buying furniture and decor online. The layout is simple but effective. The images are clear and uncluttered, and the interface is simple to use. This serves to increase sales on this eCommerce website. There is very little wasted space or unnecessary information as soon as you hit the landing page. This makes finding their products easy and fast. One of the major factors attracting users to the site is the user-oriented approach. Tools to choose furniture from are provided to help you make your options broader and a lot easier. Based on your likes and dislikes, it will direct you to the perfect design and product for you without the need to open additional tabs or pages.

Tom Dixon

: This is one of the best online furniture stores to find creative and stylish products. On the platform, you would find that the products are displayed with high-quality pictures on a user-friendly layout. This is to ensure that all customers have a great shopping experience. The furniture on the platform are organised for convenience, and there are no distractions or pages of useless information. There is also a blog filled with stories to inspire you on the best products you can find for all categories.
In addition, here is a list of other top online furniture stores for your inspiration:
Wayfair

Restoration Hardware

Pottery Barn

One Kings Lane
Top 3 Online Décor and Furniture Stores for Inspiration

TOM DIXON
Summary
Creating and running an online furniture store is an enticing yet challenging endeavor. To make your business prosper, you should develop a strategy allowing you to cut through a highly competitive clutter.
We suggest that you start by considering the basic functionality of furniture stores that is necessary for a decent performance. Furthermore, study the advanced features that can invigorate the consumer experience and give your website extra appeal. Finally, look at the attributes that helped successful online furniture businesses reach their heights.
Get inspired by the brilliant webstore examples, calculate your costs, compose your plan, and rush to explore the vast benefits an online furniture shop can provide.
Obviously, you may need help on your way. We can provide both business and technology consulting. With strong domain expertise in ecommerce, our team is adept in cutting-edge technologies and software solutions. We've been building successful online stores for more than seven years, and our expertise allows us to cover all your technical needs effectively.
Should you need to start an online furniture store, upgrade its functionality, migrate to another platform, or attain any other ecommerce goal, let us help you address your challenge.
Book our services, and streamline your path to a winning furniture website.