When thinking of holiday eCommerce sales, you probably focus on Christmas, but there are a lot of holidays throughout the year that can help bolster sales. Each special occasion is an opportunity to push holiday sales, promote top selling products online and gain new customers.
Recently, eCommerce sales have been soaring to hugely impressive levels. People are shopping at home and placing a variety of orders. It's a great time to focus on social shopping by targeting the consumer with a variety of techniques such as email messages, online countdown sales, and other sales promotions ideas.
Clearly, the opportunity is ripe for focusing on all holiday eCommerce opportunities.
Table of Contents
Trends of Mobile Shopping and Social Commerce

Double Powers: Full Automation and Personalisation

Squeeze the Most Out of Top-Selling Products

Use Time-Honoured Method – Include Countdown for Special Offers

"Aggressive Sales" Doesn't Work

Powers of Retargeting

Inspire Purchasers and Boost Conversion with a Website a Festive Look

Acquire Customers Before the Sale Starts

Offer Free Shipping

Leverage on Authentic Clients Testimonials

Plan a Targeting Content Strategy
Historically, eCommerce sites have been focused on drawing in the desktop computer user but with the popularity of smartphones an entirely new market dynamic has opened up.
Mobile eCommerce is an exciting way to push top-selling products. Estimates vary but at present, it appears that over half of all search queries are made using mobile devices. Many users access their social media sites using their mobile device, so social media commerce has taken centre stage in successfully converting holiday shoppers.
Creating a successful mobile app experience for your eCommerce site and then leveraging the latest social commerce tools such as Facebook shops or Checkout on Instagram is just one way to reach a wider dynamic of shoppers who are now using their smartphones to make purchases. In addition, it enhances the overall customer experience.
Trends of Mobile Shopping and Social Commerce
Using full automation to personalise the buyer's experience is a great way to make sales and gain repeat customers. Show content, provide product recommendations and focus on providing offers that were gained from the buyer's previous actions such as their purchase history, personal data, browsing behaviour or demographics.
Full automation can help you boost your marketing campaign and improve your conversions by offering your customers the service they deserve. Answering questions, making product recommendations, sending cart-abandonment emails, and providing personalised showrooms to clients are just a few perks.
Double Powers: Full Automation and Personalisation
Never underestimate the classic holiday email message with web push notifications to spur a would-be client to make a purchase.
The email can focus on holiday top selling products while featuring sales. Attractive emails and festive alerts push the buyer with a sense of urgency, so they worry that they might be missing out on a deal if they don't click on the item and view it.
Holiday Email Message and Web Push Notifications
If you want customer loyalty then you might want to consider providing a free "Thank You" gift, which has been shown to increase holiday sales and conversions substantially. Payback offers are also another aspect. Buyers will make a purchase in the hope of getting reward points or the free fit.
Gift cards also grab the attention of customers.
Don't Let Your Customers Go Empty-Handed
Customers are notorious for wanting to shop around to find the best deal. They will place an item in their cart and then navigate to another site to compare. This results in an abandonment of the cart. However, all hope is not lost.
There are tricks that you can use to bring them back, so they make the purchase. One way is to send a festive sale offer that focuses on the items they left in their cart. They will feel like if they don't act quickly then they will lose the deal, so they will return to make the purchase.
Recover Abandoned Carts with Holiday Discounts

BIRCHBOX
Make the most of showcasing your top-selling products, especially during the holidays.
Place your top-selling products in the footer of your site or landing page. You want them to always be easily accessible. You can even build a landing page that just focuses on your top-sellers. Don't overlook the importance of pitching the items via emails.
You can even use a content creation strategy that revolves around the items.
Squeeze the Most Out of Top-Selling Products
Urgency is the name of the game when pushing a customer who is on the fence to make a purchase.
A countdown website ticker or email specifying that time is running out is often the solution. You want them to know the clock is ticking and they might lose out on an amazing deal if they don't act fast. You can really give your would-be customers the nudge they need via email or on the website by conveying the urgency with the countdown gimmick to great deals.
Ways to create a sense of urgency during a countdown event include:
Add timers for when the discounts, sales or product will run out of stock by displaying — only x number of hours until sale ends or only 10 of the items left in stock so act night banners.
Gift a gift or a reward if the buyer purchases the item within a strict deadline
Notify your buyers via SMS, social media, or email that the item is selling fast and will soon be out of stock. You can also push when the sale ends.
Use Time-Honoured Method – Include Countdown for Special Offers
Online shoppers are savvy and don't fall for a lot of polished hype. They usually frequent multiple eCommerce shops to get the best deal. They can now carry out widespread product research, so they get a quality item for a superb deal.
The knowledge has made them suspicious too. If a deal is too good to be true, or they feel like the seller is too aggressive then they might start to back away from the deal. Buyers do not want to feel like the seller is trying to outsmart them or push them and will automatically become defensive.
Sometimes the many ads, pop up sales, and discounts simply overwhelm would-be buyers. They get tired of seeing sales promotions, cross-selling, upselling and more.
Instead of pushing or driving, instead, let the buyer feel like they are partnering with your site. Offer them a glimpse into a future sale, so they feel privy to important information. You want to let them make their own decision about whether or not to participate in the sale. Continue to keep them up to date on the upcoming event, sale, or promotion because repeat exposure is beneficial.
"Aggressive Sales" Doesn't Work
Shoppers hate pop-ups. Most will see a pop-up and hit the back button. However, you can develop a new retargeting strategy with pop-ups that are non-aggressive in nature.
Use an event triggered pop-up. When a visitor tries to exit your website by moving the mouse to the exit tab then a pop-up is triggered. Other exit pop-ups can also be effectively programmed to occur at different times such as for specific pages, tasks, or multiple visits. Another one can be a helpful option that pops up if someone is spending a lot of time looking at a particular item then maybe they will benefit from help talking to someone.
Remember, customer acquisition and retention are always your goals without being pushy.
Not Intrusive Pop-up with Discount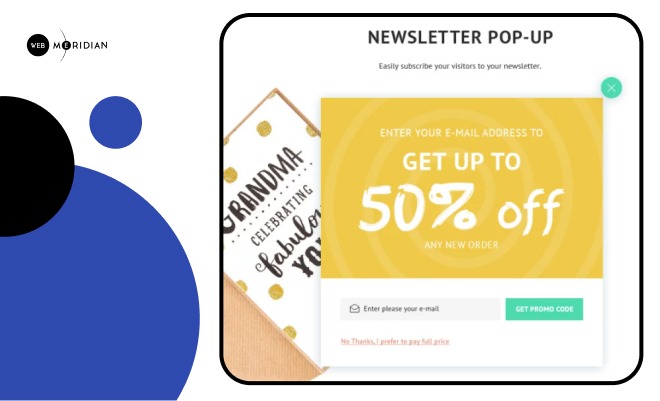 SOURCE: Magento 2 Holiday Themes
With retargeting, you make sure that your store is in front of your potential clients even after they navigate away. You want to live on in their memory to reel them back in through the use of specific advertisements and other ways to make them convert.
You can launch a retargeting campaign that lets you target the visit using certain ads that boast items they have already displayed an interest in. Target them via social media and search engines. Let them know why your product or website is so special, so you stand out from the rest.
Powers of Retargeting
On your holiday eCommerce website, you'll want to make exciting offers for first-time buyers. The perks for new customers will draw in the buyers and make them feel like they are scoring superior deals over other sites and might end up the extra nudge they need to finalise the purchase.
Popular offers include:
Free shipping eCommerce perk for new customers
Buy-one-get-one-free (BOGO);
Buy-one-get-one 50 percent off;
Quality discounts;
Free gift.
Exciting Offers for First-time Buyers
Let the holidays inspire you to give your website a makeover. Use embellished and bright banners. Make sure the decorations are attractive and compel the would-be buyer to make a purchase. Holidays automatically put people in a happy mood, so the decorations will only inspire the emotions further and create better conversions.
A holiday website design keeps things fun and exciting.
Inspire Purchasers and Boost Conversion with a Website a Festive Look
Plan ahead by acquiring customers before the sale even starts. Your strategy can look like the following:
Zero in on your target audience;
Offer regular giveaways;
Use video content;
Optimize your landing pages;
Run a focused referral program;
Focus on your site's SEO;
Regularly upload high-quality content;
Focus on email engagement;
Frequently improve your website.
Acquire Customers Before the Sale Starts
Most of the big websites offer free shipping so to stay in direct competition with the giants, you'll need to also offer free shipping. You can set a purchase threshold such as free shipping after the buyer spends $35, $50, or $100. However, free shipping has now become a necessity for many shoppers who simply won't make the purchase if they don't receive the perk.
Offer Free Shipping
Showcase your strengths by leveraging authentic client testimonials. Post them so your would-be shoppers can learn about your service and see what other individuals like themselves are saying about your site. Tell stories in your client testimonials and don't be afraid to respond.
Let everyone know why your website eCommerce stands out from the rest with superior customer service.
In addition, show off your customer testimonials by pushing them on your social media site. Then when your audience responds or comments you can also start a discourse with them to further build brand awareness, humanize your site, and make memories.
Shoppers like to buy from sites that they feel they have formed a relationship with and testimonials are a great way to achieve that repertoire.
Leverage on Authentic Clients Testimonials
A firm foundation of content strategy creates holiday eCommerce success. Whether you are building from the ground up or updating your content strategy for the special occasion to increase holiday sales, drafting a targeting content strategy is important. You can achieve it by identifying your target audience, developing a familiarity with their one habit, and then developing a content marketing strategy.
Let our experts in business and tech consulting help you increase your holiday sales.
Plan a Targeting Content Strategy