Today's eCommerce space is evolving at lightning speed. Remember, there are thousands of eCommerce businesses like yours that ponder upon it.
As a business owner, if you want to survive in the digital age, sooner or later, you'll need to bring your products online, and you'll need the right eCommerce platform. In a tech-driven world, a compact and robust eCommerce platform helps you maintain a professional store.
Plus, it makes it easier to showcase your product line, ensure an impeccable shopping experience, and count a significant uptick in sales. Moreover, eCommerce platforms have centralized the efforts of businesses managing their inventory, offering customer support, and processing payments.
Table of Contents
Form a Clear Perspective about eCommerce Platforms

Shopify vs. Magento: Detailed Comparison

Conclusion
Form a Clear Perspective about eCommerce Platforms
When it comes to Magento vs Shopify, you'd be surprised to find out how many businesses still have little to no idea which they should choose. Part of the issue is that many business owners have no clue about their own considerations and want to select an eCommerce solution purely based on generalization.
Shopify and Magento work wonders whether you run mid size or big operations. Here's the thing, you should first review your business needs and then see whether you'll be better off with Shopify or Magento. From Magento to Shopify, you'll need to browse and dive into a comparison of a lot of elements. Magento works as a great open-source eCommerce hub.
Now, we'll break down how Magento and Shopify are different from one another.
Key Statistics and Figures about Magento Vs Shopify
Shopify and Magento have become hallmark eCommerce platforms. Magento accounts for 1.2%, whereas Shopify holds a 10% market share.

In terms of add-ons and apps, Magento features 3600, while Shopify comes with 4200.

When it comes to live sites, Magento supports 50,000+ across the United States and powers up over 315,000 websites globally. On the other hand, Shopify shores up to

3,450,000 

live sites.

In terms of annual transaction volume, there are over $140 billion worth of transactions that are processed on Magento.

Magento powers sites in health, fashion, beauty, electronics, home, sports, apparel, media, etc.

More than 

90%

 of shopping deals would take place online by 2040 and 

Shopify and Magento

platforms are at the forefront.

Magento accounts for a 50%-80% revenue boost for various eCommerce businesses.

You can choose from more than 200,000 Magento-based developers throughout the world.
Magento ranks as the 9th-best among content management systems. Even in an evolving eCommerce ecosystem, Shopify usually ranks in the top three.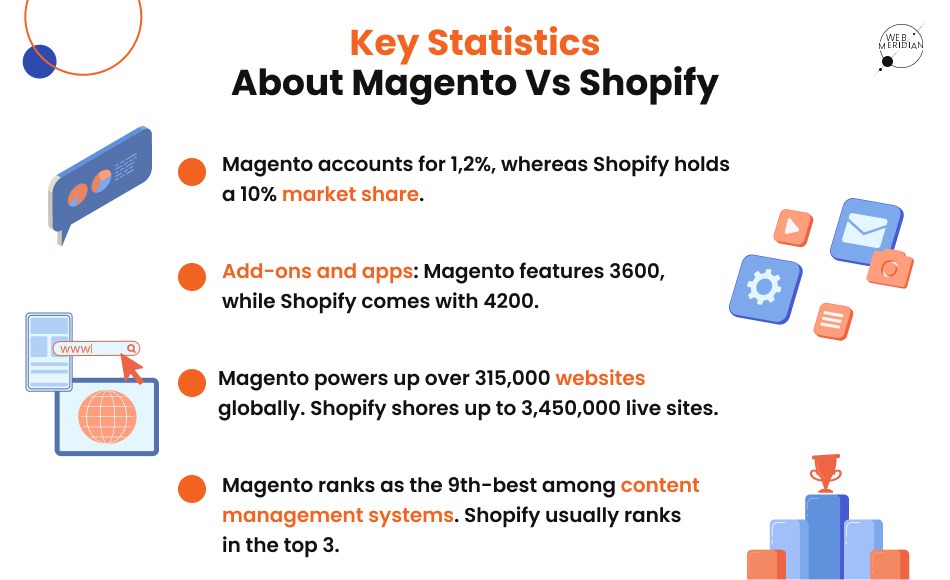 </p
Shopify vs. Magento: Detailed Comparison
If choosing an eCommerce platform seems like a daunting task, focus on the essential use cases. So, what's the main difference between Shopify and Magento? Well, if you run small to medium-sized eCommerce operations, then you'll find Shopify more attractive. But if you don't mind getting into the technicalities, then Magento is a more suited option.
Selecting the right eCommerce platform depends on your business requirements. When deciding which eCommerce platform is right for you, review essential elements in this Magento vs Shopify comparison guide.
Ease of Use: Magento Vs Shopify
If you choose an eCommerce platform that is difficult to navigate, then you'll run into unexpected challenges that would inevitably impact your store. In terms of usability, Shopify has an edge over Magento. One of the best things about Shopify is that it doesn't require end-users to have coding skills.
In fact, using Shopify is a matter of setting up a new online store and selling products right away. On the downside, Shopify has limited customization, which doesn't offer complete control of a site. If you're looking for an outclass eCommerce solution with drag-and-drop functions, site builders, and simple customizations, opt for Shopify.
But if you don't mind getting into the nuts and bolts of installation and maintenance, then Magento is a much better option. The open-source eCommerce hub features a page builder and comes with an expensive price tag. Unlike Shopify, you'll find Magento store administration way more challenging.
On the bright side, you can integrate Magento's admin controls with WordPress and centralize/streamline your content management. In short, if you're an amateur, it would make more sense to choose Shopify. But if you have some coding skills, Magento would make a better choice.
Pricing: Shopify Vs Magento
Magento
You'll find the pricing structure of Magento within your reach. It is equal parts flexible and competitive. There is an option to opt for a Magento plan that meets your eCommerce business needs. And the best part is that it cuts out the need to cover a subscription fee each month. In fact, you can also use the free version of Magento and install it to set up a new store.
But you will need to cover the cost of hosting providers and getting a new domain so that you can publish your site. Magento's license cost is a different story and comes down to multiple factors. It can be Magento's version or the license type you want. You can either opt for Magento Commerce or Magento Open Source.
One of the reasons that Magento Open Source stands out is that it is a free system solution. It means there are no licensing charges. But you'll have to cover the hosting, additional expenses, and site development costs.
Magento Commerce, on the other hand, is a proprietary system, and the starting annual price is around $22,000. Why pay a licensing fee? Well, this is how you get security updates, dedicated technical support, and software access. But the actual cost will come down to varying eCommerce needs, like the number of sites and servers you want to run through Magento.
Shopify
Shopify works around a subscription model and features five different pricing tiers. Depending on your eCommerce business needs, you can choose a $9 or a $2,000 tier per month. All Shopify plans feature hosting and domain names and you can choose from a variety of themes and templates at a relatively low price point.
In fact, you'll find that the majority of Shopify themes are super cost-effective. In comparison, both Magento and Shopify pricing can go high and low. If you want great templates, you won't have to pay more than $180 on Shopify. However, it'll cost you around $500 on Magento. Users often find it difficult to calculate each plan's transaction fee and how it would impact the process.
It is vital to understand that Shopify and Magento have different pricing structures. Affordability comes into play only if you have minimal or basic eCommerce needs. It is entirely up to you how you use open-source eCommerce platforms like Magento. And based on your business requirements, the pricing structure is bound to vary.

Integrated Tools: Magento Vs Shopify
Magento comes with built-in features like an advanced inventory system. This allows store owners to check their total visitor count, render revenue reports, import high-volume databases related to products, and compare different product variants.
Business professionals also have the option to get sales solutions from the Magento marketplace. Once you have access to sales tools, set fixed percentages and discount prices, recover abandoned carts, customize checkouts, and make improvements to enhance customer journeys.
Magento's sales solutions also support multi-channel selling. You can also leverage the Shopify marketplace so that you can quickly sell a wide range of products. Similarly, you can use the Shopify marketplace to recover lost sales and check out abandoned carts.
Selling digital products, you can use Shopify to sell physical products. What's more is that Shopify has partnerships with UPS, USPS, and DHL Express. This allows store owners to deliver their products efficiently through courier services. In comparison, Shopify features more robust sales tools than Magneto. On the same platform, you can use Google Analytics for thorough data review.
Themes: Magento and Shopify
Your online store's theme is a crucial element that increases or decreases user retention. If you want to thrive in the eCommerce space, you'll need a layout and design elements that can garner more attention from users.
Shopify features a long list of premium and free themes. While Magento features impressive themes, it's not even close to what Shopify has in store for its users. So, if you want to fully customize a theme, then you're most likely to love Magento.
Magento offers 11 different themes priced from $30 to $500. You can still use Magento to build your dream online store, use the features that work wonders, and make adjustments until you meet your specific brand image.
But if you simply want to choose from a broad selection of paid themes, then choose Shopify over Magento. Plus, you won't need any coding skills to make changes to Shopify themes.
Apps and Add-Ons
Wondering how to choose the best ecommerce platform? For many eCommerce business owners, it's all about supported add-ons and apps and an eCommerce platform. Without Add-ons — you can't add more functionality to your eCommerce store. Whether you choose Magento or Shopify, both platforms make it possible to tap into extensions and add-ons.
Shopify features more than 1,000 apps. You can find premium as well as free apps on Shopify. These apps usually revolve around social media advertising, shipping, and email marketing.
Marketing Features
Marketing tools or features are a crucial component when deciding which e-Commerce platform is right for you. When you have direct access to great marketing tools, you can make the changes to expand your user base and improve your business' bottom line.
Shopify comes with great marketing tools that pair together with third-party integration. For instance, you can use tools, like Klaviyo and Seguno to sell your products on Instagram and Facebook. Shopify also supports multilingual websites, which allows you to market your products in multiple languages.
On the flip side, Magento has a dedicated marketplace for marketing tools. So, if you want to roll out email campaigns, you'll first have to install extensions. You'll also need to hire a skilled web developer who can integrate marketing tools. If you want simplicity, you'll likely gravitate more toward Shopify's integrated marketing tools.
When you compare Magento and Shopify, you have to consider your business needs. Comparing Shopify vs Magento involves a strategic process — it's about having to figure out "which" one caters to your needs. In the end, when it comes to Magento vs Shopify comparison, focus on the features, pricing, add-ons, built-in tools, and other elements to make your decision. So, the next time you read, "Which is better Magento or Shopify," make sure not to generalize.
Conclusion
If you're part of the eCommerce industry or looking for leading eCommerce platforms, you're going to explore Shopify vs Magento comparison. Magento and Shopify are invaluable and robust eCommerce platforms. If you want to make the "right" choice, find out as much as possible about both platforms and avoid generalizations. At all costs, focus on the elements that meet your prerequisite needs and help you establish and run a successful online store.
Once you review the fundamental differences between Magento and Shopify, you'll be able to choose the one that can help you meet your eCommerce store needs faster. Since Magento and Shopify have different use cases and parameters, consider how every single element of these eCommerce solutions can help you lay and strengthen the foundation of your online business.
Contact us to get top-tier full-service development, delivery, and support around multifaceted eCommerce solutions. Whether you choose Magento or Shopify, we at WebMeridian can help you maximize your traffic and conversions along with state-of-the-art website development.