Magento has a reputation for going above and beyond by experimenting with new and innovative ideas as a leading eCommerce platform. Magento has just begun to focus on voice search as innovative technology. Merchants and customers benefit from a better, simpler, and more delightful purchasing experience thanks to Google voice search.
Magento team has concentrated on giving a premium experience with all the bells and whistles with the launch of Magento 2 (a step up from Magento 1). You'll benefit from plenty of new features and functionalities. The scalable eCommerce solutions cater to the demands of both large and small businesses. Magento 2 migration is a fairly simple shift that causes very few issues.
Your eCommerce site will be able to benefit from migration services with the help of a hire qualified Magento developer, and the team will optimize the website for voice search.
Table of Contents
What Impact Does Google Voice Search Have on Magento 2 SEO?

Recognizing Voice Search as a Dialogue System

Tips on How to Optimise Your Website for Voice Search

What Are the Benefits of Adding Voice Search to Your Magento 2 Online Store?

Create Blog Posts That Address the Concerns of Your Customers
A would-be consumer uses a simple voice command to start a search on an app, website, or the internet without having to type anything. This search style has grown in popularity among mobile users who do not want to enter a search word. The procedure is rapid and straightforward. 
The feature is popular among young adults, teenagers, and tweens. Even those who are unable to view a screen well prefer to use their voice to search for items. It's also ideal for those who are confused about how to spell a term or who prefer not to be tethered to a keyboard or keypad because they want to do something else with their hands.
Smart gadgets are evolving to satisfy the public's desires as spoken queries become more common. The use of mobile devices is on the rise. Virtual assistant AI systems like Apple's Siri and Amazon's Alexa are rising to the occasion to satisfy customer demands.
Clearly, the playing field is shifting quickly as everyone scrambles to fulfil the demands of consumers who want to search the internet, mobile apps, and webpages more quickly and easily with only the power of a voice inquiry or word. Website and eCommerce owners are putting in a lot of effort to make their sites Google voice search-friendly. Magento 2 facilitates the transfer.
What Impact Does Google Voice Search Have on Magento 2 SEO?
Almost everyone has a smartphone, and many people use them to purchase. The number of voice inquiries made on mobile devices and smartphones is rapidly growing. In a 2020 voice search report, data showed that about 20 per cent of all searches carried out on mobile are via voice. 
Android smartphones were used for almost 25% of the questions submitted by the general public. The majority of them were activated verbally. It's critical that your eCommerce website be mobile-friendly and fully functional on a variety of devices. Almost everyone possesses a tablet, smartphone, or laptop computer. Remember that you want to reach clients from all walks of life, so think about how they'll get to your site and what devices they'll use.
Nowadays, every eCommerce site should be mobile-friendly. Will your consumers use a computer or a smartphone to communicate with you? Perhaps a tablet? Now, use all of the resources at your disposal to meet their needs and turn them into long-term customers.
Mobile Optimisation

In today's age of instant enjoyment, speed optimisation is critical. It is essential to have a responsive and adaptive design. Fast-loading web pages, optimised photographs, and videos are all part of the process to guarantee you have the best page ranking possible, so you can benefit from an oral inquiry.
Once the site is mobile-friendly, you can use online tools like Google page speed and/or a webpage test to evaluate the performance of your mobile webpage. Without question, the fast tools are valuable assets that may help you improve your complete web presence, allowing you to attract a wider audience and keep your consumers pleased.
You'll get a full report explaining your site's performance using the tools. You'll also get advice on how to enhance your performance. You'll be able to manage the modifications you need to make to stay on top once you've studied the report. Always keep in mind that one of the most important things you can do to advertise your website is to ensure that it is fast enough. Nobody likes to shop on a sluggish online store.
Speed Optimisation
How to Increase Website Loading Speed in Magento 2 Shop
Read On
What does it mean to be in a position of zero? This simply means that Google considers the response to be the greatest (number one) option for a voice search. When someone uses Google voice search to locate something, you want your site to come up first.
The block was created so that people may instantly read their answers without having to take to the trouble of clicking on a website link. This is a fantastic benefit since it allows Google to index millions of web pages swiftly and effortlessly. 
You're undoubtedly wondering how to obtain the desired position of zero. Here are a few pointers to assist you in landing the lead zero position:
Only use keywords and requisitions that contain what is known as zero blocks.

If you're going to answer a question, try to use the major term.

Use succinct bullets or lists to write up specific and quick replies to inquiries.
 Get to Google Zero Position Blocks
A dialogue system, also called a "conversational agent," is a kind of computer system that can converse with a person. 
Most dialogue systems have three or more modules:
a program that can recognize words, sentences, phonemes, and other aspects of human speech.

a component that generates synthesized speech to respond to orders and inquiries.

a discussion management module.
Your voice search system employs NLP (natural language processing) to learn better and comprehend your speech and your voice patterns. NLP combines computer-based linguistics with machine learning and deep learning. This indicates that performance will advance with time, depending on the degree of complexity of the system you are utilizing.

Recognizing Voice Search as a Dialogue System
It's critical to learn how to optimise your website for voice search these days.
If you don't accept technology, your eCommerce site will most likely be left behind as other sites rise to the top of Google search results ahead of yours. You don't want to be left behind. Therefore, it's time to consider getting more vocal since it's likely to be the wave of the future, outpacing everything else.
Everyone has a smartphone in their pocket. When they're on the road or out shopping, it's their go-to device. With every search query, it provides instant benefits. People use Siri or other voice-activated capabilities on their phones to look for various things, so it's no wonder that they're now utilising vocal searches to locate what they're looking for and shop for the best prices. To truly become a great eCommerce site, you must include that easiness into how your eCommerce business operates.
Nobody likes to sit in front of a computer and type in a search query. On a little phone, your thumbs become tired. Everyone wishes they could simply speak to their phone and have it reply appropriately. Activating your site to accept vocal inquiries is a terrific first step toward appealing to smartphone customers.
In the sections below, we'll look at a few strategies for optimising Magento 2 for voice search.
Tips on How to Optimise Your Website for Voice Search
It's critical to include keywords to optimise website for voice search so that your customers can find what they're looking for. You'll want to generate content containing the keywords so that they can swiftly respond to the searchers' queries. Keywords are the icing on the cake when it comes to optimising your website for both ordinary search engine searches and conversational requests.
Try to understand how to study and discover the best long-tail keywords, so you can employ them when necessary. You want precise phrases since you'll discover that they have less competition than so-called high-volume search terms. Long-tail keywords might help your website rank higher in search results. Search engines use them to categorise items.
Put yourself in your buyer's shoes, as they say.
There's no better approach to accomplish this goal than to figure out what they're seeking for when they use a search engine to do their shopping. To gain a hold on your possible consumer base, you'll need to understand your target market. Once you know what they're looking for, you can take advantage of it. You can quickly match their search queries utilising depth and information content, resulting in a very satisfying experience for them while visiting your site on their mobile device or PC.
Keyword Research

There are various free and premium purchase-only tools available to assist you in finding crucial search words for your eCommerce site. You can even see search volumes using the tools. When it comes to keywords and search engine optimisation, they are really useful (SEO). Once you've identified the phrases, include them in your website's landing pages, product descriptions, about us section, FAQ, and blog articles.
Remember to update your blog once a week to remain on top of things. Each one must have keywords as well as long-tail keywords to optimise website for voice search. They can also include inbound connections to your items as well as outbound links to credible sites, causing Google to take note.
Now is the moment to prioritise and find the high-volume keywords your competitors are ranking for. These tips will help you optimise your site for both verbal search and search engine result pages (SERPs). It's incredible how a few keywords can propel your website to the top of Google's search results. It is, without a doubt, a simple technique to get ahead of the competition and win new consumers.

Everyone uses a voice search by speaking in a natural, free-flowing manner. People, to be honest, merely chat into the gadget without giving it any attention. They aren't the kinds of search words you'd find in a conventional, dull online search. True, recognising the long tail and targeted conversational questions is crucial, but you must adjust your approach somewhat to account for speech.
How to optimise your website for voice search effectively? Certain keywords will assist you in tailoring your content for the longer and more complex voice search queries that individuals who use speech-enabled technologies like to employ. In a nutshell, it comprehends how individuals communicate in real life. You use particular terms in your region that stand out from others, whether you have a Scottish brogue or a Southern drawl. During a discussion, everyone has their unique dialect characteristics and mannerisms. When searching, they employ them, which might make things more complex if you aren't setting things up to allow ordinary language and nothing too textbook or sophisticated.
Examine or research how people ask questions. You may have to perform some detective work, but it may be entertaining. Go to a social networking site such as Facebook. The finest information may be found in social media groups or internet forums. You may get a sense of how consumers would look for a product or service on your Magento website by visiting such places. It's important to know the local lingo. Once you've come up with a concept, you may include conversational and flowing language into your text to improve your voice rating.
Make Use of Natural Language
How To Benefit With Proper SEO Audit and Optimisation
Explore More
According to Statista, mobile phone sales will eventually hit 70%. According to Google, as many as 27% of all users utilise a vocal search frequently, particularly on their mobile devices. Due to modern voice search technology, mobile-first indexing via Google is a way to optimise things so that your Magento 2 store remains on the first page of any search results.
Here are the measures you should do to make your eCommerce store mobile-friendly as well as optimise website for voice search:
Create a mobile-friendly version of your eCommerce store.

Run tests to look for a range of things, including mobile loading speed.

Concentrate on any enhancements that are required to increase loading and speed.

Examine the website's design for user experience (UX). Remember that all of your eCommerce site's pages should be simple and easy to navigate.

Synchronise all mobile and desktop responses so that redirects may be set up.

Examine your sitemap for mobile pages to understand how the Google bot sees them (think indexes and crawls).

For mobile devices, make sure the metadata and desktop content is the same.

Perform and assess various speed tests on a regular basis to ensure that all of your improvements are working and have been properly implemented.
Using PWA technology in conjunction with AMP extensions can assist your website's mobile pages to become lighter and faster. Non-AMP pages have been reported to load at a pace of 85 per cent faster than AMP pages. For CMS pages, you can also develop AMP versions.
Read the useful article: PWA vs. AMP — What Is Faster and Better for SEO and How to Drive Mobile Sales
Make Your Website Mobile Friendly
Location-specific parameters are used in the majority of mobile searches. Another approach on how to optimise your website for voice search: people like to go hunting in the areas where they live, work, or travel. People appear to seek out regional service providers in their immediate area more frequently than not.
Ideally, you should optimise your Magento eCommerce site to cater to the residents of your community. You'll want to create a localised SEO plan that includes updating your company's regional information to the Google My Business listing. The procedure is astonishingly simple and lucrative, allowing you to acquire a local business.
You'll double-check your locations and maintain your operating hours current. You should also reply to reviews. Consider developing a local social media presence to drive visitors back to your eCommerce store. Regularly posting and connecting with your devoted consumers is an excellent method to build trust in your products and website.
Take the time to update your website with high-quality images. People are visual creatures; therefore, having high-quality photos of your items is crucial. Examine your shop locator sites and make sure they're optimised to attract people conducting a local search. You may even include local images on your website, which is a great bonus.
You not only optimise your site for everyone seeking for local providers by concentrating on those searching locally, but you also help drive a local verbal inquiry by focusing on those searching locally. Both rewards are beneficial to you.
Concentrate on Local Searches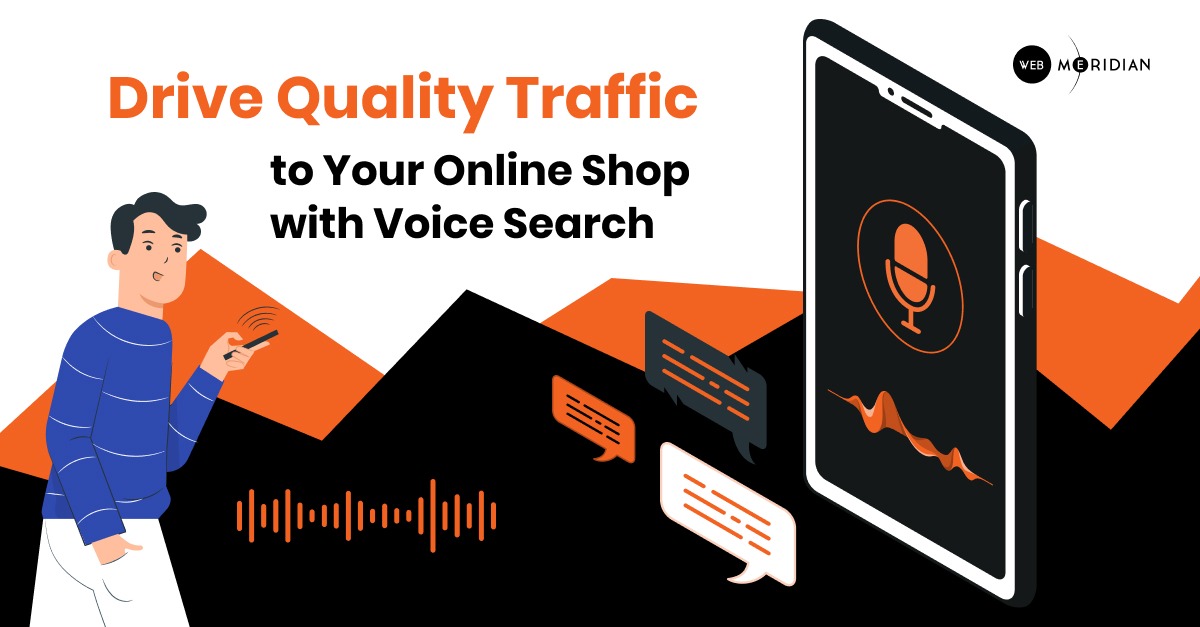 According to Google statistics, voice search is on the rise. In America, 41% of adults use it frequently, while 55% of teenagers engage in a verbal search. Clearly, integrating voice activation search capabilities to your Magento 2 online store will attract customers and significantly improve your site's position. Never underestimate the importance of a seemingly insignificant detail in the success of your eCommerce site.

What Are the Benefits of Adding Voice Search to Your Magento 2 Online Store?
Many individuals prefer voice activation hunting over text hunting, particularly for the following reasons:
Typing is difficult for those with physical limitations.

People who have learning problems or are experiencing cognitive decline

Children who have not learnt to write or spell correctly

Anyone who can't use a keyboard or mouse due to physical constraints such as a broken hand or arm.
Accessibility
Anyone may swiftly input the information or voice the instruction, and the gadget will respond considerably faster than if it were entered manually. When you use your voice, you can respond considerably faster. People desire immediate gratification, and the only way to deliver such an uplifting experience is to supply it quickly. If the searcher is forced to wait, there's a significant possibility they'll leave your site and go someplace else where they can get a faster response.
Speed
You can utilise voice hunting skills on the move, in the vehicle, or anywhere else where you don't have access to a laptop keyboard or keypad. Most smart speakers nowadays feature artificial intelligence, so if they learn that a user has a pet or uses another item, they will remind them to add it to their basket monthly or weekly.
One of the hottest tools in a house in the United States and other areas of the globe are AI gadgets like Alexa. They're even being used by students for academics.
Convenience
You may develop a question-and-answer blog article on your site to truly target folks who utilise voice searches. You may also create blog pieces that answer the most often-asked questions by your customers.
Please contact us if you want to optimise a website for voice search. We specialise in technology and business consultancy. We provide all-inclusive services. Our IT staff is ready to take on any difficulty your new online or offline business or brand may face. 

Create Blog Posts That Address the Concerns of Your Customers
Voice Search and FAQs
How do I optimize my website for Google Voice Search?
#1. Keyword Research. #2. Make Use of Natural Language. #3. Make Your Website Mobile Friendly. #4. Concentrate on Local Searches.
How does Google voice search Affect SEO?
It is obvious that adding voice activation search functionality to your Magento 2 online store will draw clients and greatly raise the ranking of your website. Never undervalue the impact of a seemingly little feature on your eCommerce site's performance.