Shopify is a one-of-the-kind eCommerce platform, supporting integration for a plethora of payment gateway services for its merchants. However, signing up for the best payment provider for Shopify may be a hassle, given the wide range of choices. 
In this comprehensive guide, we look closely at supported payment methods on Shopify in order to find out what each offers.
The options we will discuss are great for startups and large enterprises with ambitious expansion plans, but choosing the Shopify payment gateway fitting your needs requires knowing some specifics.
Table of Contents
What is a Payment Gateway?

Why is a Shopify Payments Gateway Crucial to You?

Direct or Third Party Payment Providers?

Best Shopify Payment Methods

What to Consider When Choosing a Shopify Payment Gateway Solution

Do You Need Shopify Payment Gateway Development?
What is a Payment Gateway?
A payment gateway refers to the technology enterprises use to accept and process electronic payments from their customers. It connects the client's payment method (e.g. a credit card or digital wallet) with the merchant's bank account while providing security, authorization, and proper accounting.
When a buyer completes a transaction on an eCommerce mobile app or website, the gateway communicates the merchant's private transaction info to the business account. The merchant's bank then requests that the customer's issuing bank authorize the transaction to take place. The answer is relayed back to the merchant, completing the purchase.
Why is a Shopify Payments Gateway Crucial to You?
When choosing a payment gateway, first know why you have to get one, or if you have shareholders, be able to explain why the business needs one. 
To deliver a flawless checkout experience: Integration inside the Shopify store allows consumers to transact on the spot and conveniently send redirection to the third party payment page. This creates a pretty streamlined checkout experience and may aid in increasing conversion rates.
To secure sensitive payment info from unauthorized access or scam: Payment gateways employ advanced encryption and fraud thwarting and detection technologies to keep the merchant safe from potential scams. 
To accept more payment platforms: The reliable gateways allow enterprises to receive payment from either debit or credit cards, digital wallets, and popular

Shopify payment options

. 

To decrease administrative costs and improve operational efficiency: Enterprises can use the technology for payment processing and automate critical processes like payment approvals, settlements, and refunds.
To fulfill compliance requirements: Payment gateways must adhere to stringent regulatory compliance standards, including Payment Card Industry & Data Security Standard) compliance. Businesses ensure compliance with industry laws and standards by choosing a payment gateway meeting the specifications.
Direct or Third Party Payment Providers?
There are two kinds of Shopify payment providers: direct and third-party. The primary difference between the two variants comes down to the level of control and check customers have over their Shopify payment processing.
Direct providers are integrated directly into the Shopify platform with full support, allowing clients to manage all aspects of payments without moving away from their Shopify dashboard. 
Often, direct providers are preferred because they have a flawless payment processing experience and typically charge little fees compared to Shopify third-party payment providers.
Shopify third-party payment providers, however, are not integrated directly into the Shopify platform. Setting up Shopify payments driven by third parties means customers must create a separate account with the dealer and integrate the Shopify payment setting within their store.
Third-party payment processors might be a suitable alternative for ventures with special payment processing needs or wanting more control over the processing of payments. They may, however, need greater technical expertise and be more difficult to set up and administer without professional help.
Getting direct or third-party payment Shopify gateways comes down to the merchant's individual needs and preferences.
Best Shopify Payment Methods
Let's dive into our Shopify payment gateway list to examine the top choices and find out more about their unique features, pros, downsides, and pricing.
1. Shopify Payments
Shopify Payments is a robust Shopify payment platform feature that brings onboard everything you need from a payment gateway. Some of the main perks of the gateway encompass the ease of configuration and the absence of extra transaction fees when used with the eCommerce platform of the same name.
Key features:
Automatic tax calculations

Fraud analysis tools

Multi-currency support

Automatic chargebacks.
Pros:
No additional fees when transacting for Shopify users

Easy-to-follow setup process

Real-time transaction tracking and reporting.
Cons:
Limited availability in certain countries

Fees may be higher than other payment providers.
Pricing: transaction fees from 2.4% + 0c for each transaction, with extra fees for cross-border transactions and currency conversions.
2. PayPal
PayPal is a renowned and established gateway option pre-integrated with Shopify, making it easy to set up. With its online invoicing function and configurable choices, PayPal offers a seamless and sure-fire solution for Shopify enterprises to execute payments.
One of its distinguishing features is PayPal's seller protection program that safeguards businesses from fraudulent refunds and illegitimate transactions. In addition, it enables users to pay using several methods, including credit/debit cards, bank transfers, and PayPal balances.
Key features:
Seller protection program.

supports several payment methods.

Configurable checkout options. 
Pros:
Easy Shopify integration.

Available in over 200 countries and regions.

Excellent fraud protection.
Cons:
Transaction fees can be confusing.

Limited customer support.
Pricing: Payment processing rates from 1.9% to 3.4% per transaction, depending on the sales volume.
3. Stripe
Stripe is well known for providing a suite of payment APIs for eCommerce use, which support credit card transactions, Google Pay, Apple Pay, and numerous online payment methods. There are tools for invoicing, managing subscriptions, and mitigating fraud. 
The gateway is a popular go-for option for businesses of all sizes, and is used by Amazon, Target, Lyft and even Shopify. Today, users can get cool features such as Stripe Atlas (for administrative uses), and Stripe Issuing (to make custom payment cards), among others. 
Key features:
Supports payments in more than 135 currencies.

Supports Apple Pay, Google Pay, and other digital wallets.

Automatic fraud protection.

Detailed reporting and analytics.
Pros:
Customizable checkout process.

Excellent developer tools and documentation.

Advanced features such as subscription billing and invoicing.
Cons:
It can be more complex to set up and use than some other payment providers.

Some customers may be wary of giving payment data to a third-party site.
Pricing: transaction fees from 2.9% + 30c for each transaction, with volume discounts available for high-volume businesses.
4. Klarna
Klarna is a gateway well known today for its "buy now and pay later" systems. One of the key benefits of Klarna is that it can aid boost conversion rates by offering customers a flexible payment plan.
Klarna sees usage by companies like ASOS, Adidad, and H&M, with powerful tools for handling payment disagreements, refund processing, and order management. 
Key features:
The 'buy now, pay later' system.

Automatic fraud prevention.

Ability to split payments into installments

In-app payment options.
Pros:
Can help in boosting the store's conversion rate.

Supports a myriad of payment avenues.

Easy and intuitive checkout process.
Cons:
It can be more expensive for merchants when compared to contemporaries.

Some customers may hesitate to use a buy now, pay later option.
Pricing: transaction fees vary, ranging from 2.99 percent to 3.99 percent of the purchase price.
5. Amazon Pay
Amazon Pay is an intuitive payment method that allows shoppers to use their trusted Amazon account to seamlessly make purchases on external sites, including popular e-commerce platforms like Shopify. With Amazon Pay, customers enjoy a swift, seamless, and highly secure checkout experience, empowering them to complete transactions without leaving the comfort of your site.
The benefits of Amazon Pay are numerous and profound, driving sales, trust, and client satisfaction. By leveraging the Amazon brand and reputation, you can instill trust and confidence in your customers, helping to bring down cart abandonment and skyrocket conversions.
Key features:
Fast and safe checkout experience.

Offers a trusted brand with millions of clients.

Supports various currencies and languages.

The optimized checkout process for

Shopify mobile payments

.
Pros:
Streamlines the checkout process.

Low merchant costs.

Enables cross-selling for Amazon merchants.
Cons:
Limited to customers with an Amazon account.

Withdrawal of funds can take up to 14 days.

Only available in some countries.
Pricing: 2.9% + 30¢ per transaction for transactions below $10, 2.5% + 30¢ for transactions above $10.

6. Shop Pay
Shop Pay is a game-changing payment gateway that gives an opportunity to Shopify retailers to offer consumers an unrivaled checkout experience. With Shop Pay, customers can enjoy a lightning-fast and extremely secure payment procedure, providing peace of mind.
Shop Pay facilitates one-click checkout on future orders by keeping client payment and shipping information, leading to speedier transactions and happier customers.
Key features:
A safe and fast checkout experience.

Saves transaction and shipping details for future purchases.

Offers financing options through Shop Pay Installments.

Supports recurring payments.
Pros:
Simplifies the checkout process for merchants.

Low sellers' fees.

Offers financing options.

Increases customer loyalty and retention.
Cons:
Created specifically for Shopify stores.

Doesn't work in all countries.
Pricing: Mostly free for existing Shopify and Shopify Payment users. No late fees on Shop Pay installments, with 5.9% + $0.03 per installment order. The installment fees vary depending on the customization. 
7. Authorize.net
Authorize.net enables merchants to accept payments through various channels, including credit and debit cards, e-checks, and mobile payments. The gateway follows PCI DSS compliance and leading industry standards to keep users safe. 
The gateway also provides flexible payment options, including one-time payments, recurring billing, and subscriptions, to help business owners easily conduct eCommerce. 
Key features:
Accepts several payment methods, including debit and credit cards, electronic-checks, and mobile payments

Detecting fraud and preventing it.

Provides a virtual terminal to process manual transactions.

Supports recurring transactions.
Pros:
Users receive mobile payments and e-check processing. 

Exceptional customer support, including phone and email.

Customized payment pages and receipt templates allowed.
Cons:
Relatively high fees.

May require technical expertise to set up and integrate.

Limited to merchants in certain countries.
Pricing: $25 monthly gateway fee plus 2.9% + 30¢ per transaction for their Payment Gateway plan, which includes fraud detection and prevention tools. They also offer an all-in-one payment solution with additional monthly features starting at $99.
8. Square
Square is a highly praised payment gateway, offering powerful features tailored to Shopify merchants. It enables a broad spectrum of payment options, including the highly sought-after ability to accept Shopify POS payments, both in-person and online. 
Moreover, Square streamlines inventory management, customer engagement, and appointment booking enhancing merchants' operational efficiency. With Square, merchants can accept all popular credit and debit cards and the ever-increasing number of mobile wallets, including Apple Pay and Google Pay, allowing them to meet the needs of their tech-savvy customers.
Key features:
In-person and online processing supported

Automatic recurring billing

Customizable checkout experience

Integrated POS for easy management of sales and inventory.
Pros:
No setup or monthly fees.

Quick deposit of funds to your bank account.

Superb user experience and interface with easy integration processes. 
Cons:
High transaction charges for manually entered transactions.

Limited customer support options.
Pricing: payment processing rates start from 2.9% + 30¢ per transaction.
9. Braintree
Braintree is a payment gateway that lets retailers process online and in-application transactions. It is well-known for its extensive security measures for fraud prevention and data encryption and numerous checkout customization options, like the ability to accept numerous currencies and languages.
Key features:
Several payment methods are accepted, including PayPal, Venmo, and credit/debit cards.

Advanced fraud protection and data encryption.

Customizable checkout experience..
Pros:
Easy integration with Shopify and other platforms.

Flexible fee structure with no setup or monthly charges.

An easy-to-understand dashboard for tracking payments and managing refunds.
Cons:
Limited customer support options.

Chargeback fees can be costly.
Pricing: payment processing rates start from 2.9% + 30¢ for each transaction, with discounts available for high-volume merchants.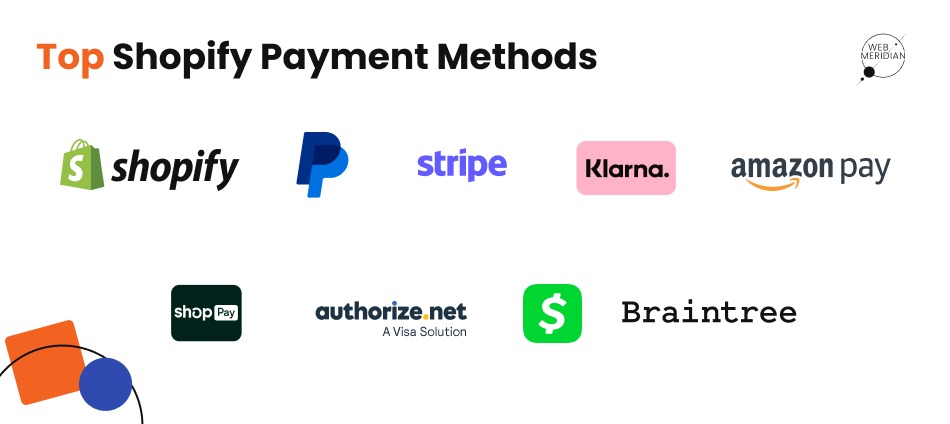 What to Consider When Choosing a Shopify Payment Gateway Solution
When searching for the best payment gateway for Shopify, merchants have to take into account the following crucial aspects:
Transaction charges:

Research what you pay while using a particular service. The fees vary depending on the payment method you opt for.

Security:

Always check the safeguards each service employs to protect any payment information and the history of protection or failures that the providers have. 

Integration:

An easy integration process can make it easy for you to deploy, maintain, and improve your system for taking payments. 

Customer support:

Issues are inevitable, so you have to ensure you can get help whenever needed. That begins with

payment methods on Shopify

for reviews on support quality and reviewing claims made before making a final decision. 

Payment methods

: Assess the diversity of payment methods every payment gateway supports. Providing many payment methods may boost conversion percentages and make the purchase process more comfortable for the clients.

Payout alternatives:

Investigate the payout possibilities provided by the individual payment gateway. Some payment systems provide daily payouts, while some may require more time. Select a payment system offering payout options ideal for your company's needs.

Availability:

Consider whether the payment gateway you want to choose exists in your business jurisdiction. Some payment options may be unavailable or limited in particular regions, so opting for a payment gateway that suits your company's needs is critical.
By considering these aspects when choosing a payment gateway for your Shopify store, you can come up with an informed selection that will allow you to process payments more effectively and enhance your entire client experience.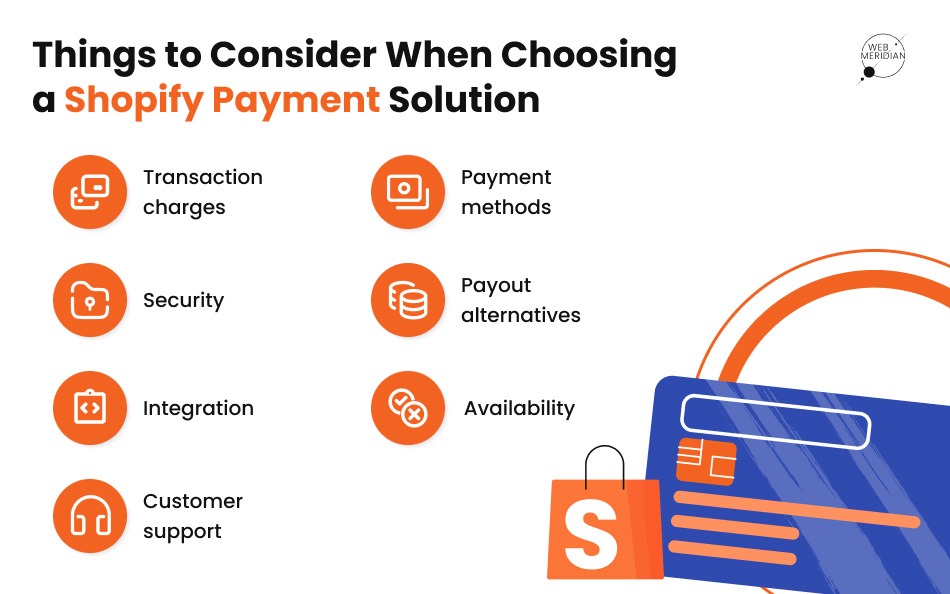 Do You Need Shopify Payment Gateway Development?
Choosing the best Shopify gateway payments processing service is critical for every eCommerce store. With so many alternatives available, selecting the one that best meets your needs might be difficult.
You can choose the best Shopify payment provider by analyzing the parameters in our list of the best Shopify payment providers.
We at WebMeridian specialize in Shopify development and can assist you with your Shopify custom payment gateway integration to help grow your business.
Contact us today to discuss your requirements and how we can help you create a successful eCommerce site.