The eCommerce sector is constantly growing, due to expanding digitalization and the advent of new technologies. More and more retailers are moving into the digital landscape, increasing the demand for eCommerce platforms, which are indispensable in running an efficient online shop.
One of the primary frameworks chosen by millions of merchants is Shopify. The platform has been around for over 17 years. But why is Shopify so popular?
The framework offers numerous advantages, including:
A wide range of convenient applications

Impeccable support

A straightforward interface

Affordability and scalability

Over 140 themes
While a wealth of themes is undeniably an upside, it can overwhelm users and impede choosing the right Shopify theme for their stores. 
Each Shopify template has unique characteristics and advantages. Picking the most suitable one is essential in establishing a webstore and creating its brand identity.
We're often asked how to choose the best Shopify theme, so we've prepared this guide to help you pick the best theme for your store.
Table of Contents
What Is a Shopify Theme?

What to Consider When Choosing the Best Shopify Theme

Best Practices to Apply When Choosing a Theme for Shopify

Examples of Top Shopify Themes

Conclusion
What Is a Shopify Theme?
A Shopify theme is a pattern that shapes the overall perception of your online shop. Themes vary by many factors, including:
Fonts

Colours

Visual design

Integration opportunities

Consumer experience
Easy to use and adaptable, Shopify themes offer numerous ways to handle your website structure, style and other variables. You can also customize a Shopify theme and blend different options to get the winning solution for your brand.
Choosing a theme for a Shopify webstore is about more than just visual appeal. It must suit your industry, your brand and the products you offer. If all these elements are in line, you'll see an increase in consumer engagement and sales.
Therefore, a Shopify theme is not merely visual; it is a tool that determines how your visitors interact with your shop.
What to Consider When Choosing the Best Shopify Theme
So, what is the best theme for a Shopify-powered website?
There is no one-size-fits-all answer to this question. Each business should identify its own theme that will deliver the maximum value for them.
Let's look at what to consider when choosing a Shopify theme.
1. Establish budget constraints
Shopify offers free and paid themes. The prices can vary considerably, so you need to decide how much you are prepared to spend on your Shopify theme. Remember the most expensive theme is not necessarily the best one for your brand.
The main elements that influence the price are:
Flexibility:

The more adaptability a theme offers, the more expensive it will be

The developer:

Established developers typically charge more for their work

Features:

Free themes offer basic functions, while paid ones can provide marketing opportunities and other integrations.
Explore the theme functionality and compare it to your needs. Don't pay more for a theme that offers features you won't use.
2. Outline the required features
Before you start looking at the Shopify themes available, you should decide what functionality your store needs. Some features and functions to consider are:
Sign-up buttons

Pop-up banners

Landing pages

A video player

Slider elements

Image zoom

Drop-down menus

Built-in notifications

A blog

Marketing tools
By identifying the required functions beforehand, you'll quickly narrow down your options at the Shopify theme store.
Beware of packing your site with excessive features, as they may add to loading time. Since speed impacts search rankings and conversions, you should aim to balance loading speed and functionality.
3. Prioritize a Shopify theme that aligns with your industry
The sector your company operates in is among the primary elements influencing the theme choice. For example, the design and functionality of a car parts shop and a perfume boutique will vary significantly.
To help you choose, Shopify groups its themes by type of business. For example, if you operate in the fashion industry, you may be shown themes that contain a big image slider and the ability to pick an item's size and colour.
Another handy filter in this section is the number of goods. If your company stocks a wide product inventory, you'll most likely need advanced search capabilities and other functionality to work with product supply.
4. Target lightweight, mobile-ready themes
Loading speeds are critical for conversions. Buyers may drop off if they have to wait too long for your pages to load. Faster-loading websites are also listed higher by search engines, improving a website's visibility within the search results.
Another point to consider is mobile friendliness. As more and more people are shopping online via their mobile, websites adapted for mobile devices are gaining traction. Experts forecast that about 50% of all eCommerce purchases will be made through a mobile device by 2024. This is a convincing reason to pick a mobile-oriented theme for your online store.
5. Consider target clientele and brand consistency
Your Shopify template should match your clients' expectations and the essence of your brand. Focus on your buyer personas when choosing a theme for the Shopify store, and ensure the design complies with your brand's character and style.
Many Shopify Store themes allow customization, including altering of fonts, backgrounds and colours. Some even integrate style and colour palettes to help you maintain visual consistency.
Take advantage of the many ways to customize your Shopify theme so that your online store matches your clients' aspirations and your brand characteristics.
6. Favor a seamless checkout page
A prompt, efficient checkout process will streamline your sales. Online shops can lose up to 70% of shoppers due to cart abandonment. Therefore, when choosing the best Shopify theme, check for a smooth checkout experience, which comprises the following:
Clear and intuitive buttons

A guest checkout option

The opportunity to edit a cart at every checkout stage

A smooth, quick checkout process
7. Look for inherent security features
Client safety is a crucial aspect that makes your site more credible and improves its search ranking. Users enter sensitive data when interacting with your shop, so you need to reassure them that the data they share is safeguarded.
You can achieve this by choosing a theme that makes use of SSL certificates and data encryption. In the face of increasing cyber-attack threats, these measures will help your customers maintain peace of mind when purchasing at your store.
Best Practices to Apply When Choosing a Theme for Shopify
How to pick a theme for a Shopify store while following the key recommendations? There are several fundamental steps to the process:
1. Identify your store's requirements
Start by determining particular tasks your customers will need to complete on your store and elements particular to your business.
Consider factors such as:
The kinds of goods you sell

Your clientele

Your desired layout

Branding components

Any special parameters
2. Research and examine Shopify themes
Filter and look through available options according to your demands. Carefully look at the suggested themes that meet your requirements and compare their characteristics and the overall impression they give.
3. Explore the descriptions and reviews
Read the theme descriptions, features and specifications provided by the theme authors. Study user feedback and ratings to learn about other retailers' experiences with the themes you're considering.
4. Observe theme demos
Developers typically provide demos or previews of their themes. Take the opportunity to browse them, as they show you how the theme works in practice.
Check how the themes run on various devices, including desktop, mobile and tablet. Evaluate their responsiveness and visual appeal, and whether they deliver a smooth experience across platforms.
5. Gauge customization opportunities
Assess the availability of custom Shopify themes. Seek themes that offer flexible settings, enabling you to modify visual elements without extensive coding or development knowledge.
6. Review theme support and documentation
As a rule, developers deliver a certain level of support for their products. Pick a theme with comprehensive documentation, video guidelines, and a responsive support system in case you encounter issues or need assistance during setup or customization.
7. Assess theme operation and usability
Look for a theme with proven seamless performance and optimized speed. Prioritize the options that are straightforward to navigate.
8. Consider compatibility with applications and plugins
If you're considering using specific Shopify apps or plugins to enhance your shop's functionality, make sure you can integrate them with your chosen themes. Check for any known compatibility issues or limitations.
9. Think about future implications
Analyze whether the theme can support the expanding demands of your brand and help it grow in the future.
Remember, however, that if your selected theme doesn't suit your needs, you can seamlessly switch to a different option.
Examples of Top Shopify Themes
Here is our pick of Shopify themes that have a distinсtive look and great functionality.
Wokiee is one of the best Shopify themes in terms of universality and operation. Its compatibility with Oberlo makes this template an excellent solution for a dropshipping company. We appreciate the ease of use and responsive design underpinning the theme's huge popularity.
Some of the significant features are:
Inherent Google-rich snippets tool

Advanced mega-menu functionality

Multilingual support

Quick loading time

Built-in sales notification

Over 20 unique skins
This theme has been developed for large shops that need visual storytelling. It's eye-catching and engaging, which facilitates the interaction between a visitor and a brand.
We particularly like the following features:
Three options of colour templates

Age-verification opportunity

Descriptions and reviews for items

Sleek animations and videos

Multiple language support

Blog option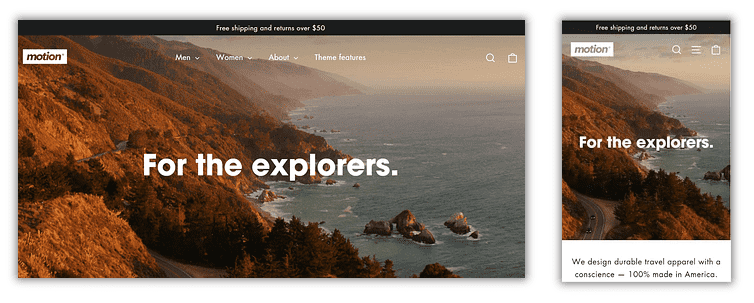 This multipurpose theme has excellent responsiveness and a thoughtfully arranged product layout. You can heavily customize this Shopify theme, depending on your requirements. We particularly like the trendy lightbox effect it enables. The look and functionality of this theme can really jazz up a buyer's journey.
The main characteristics include:
Convenient navigation with numerous multi menus

Item quick-view function

Inherent media slider

Alluring lookbook page
The contemporary, minimalist design makes this theme stand out, and its features will please discerning customers. This responsive, intuitive theme is a great solution for shops that have a clean style for their brand.
The following features are worth highlighting:
Nine creative templates for the homepage design

Extensive choice of layout styles for product catalogs

Item labels, including 'New' and 'Hot'

Quick shop feature

Smooth navigation

Cutting-edge widgets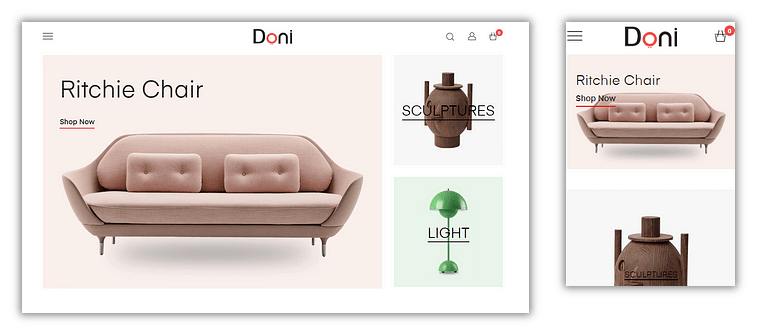 If you operate in the food industry, this theme is worth considering. Specially crafted for retailers with physical shops, it can include all the information that interests your consumers, including product ingredients, nutritional facts, and more.
Essential features include:
Two styling options

Over 20 sections

Event calendar

Age verification

Item filters

Pop-ups for promo campaigns

Store locator
Conclusion
Choosing a theme for Shopify is a key stage in establishing your eCommerce site. Our list of considerations and best practices when identifying the best theme for you will hopefully make the process easier.
Explore how other retailers in your industry present their stores and look for opportunities to make your site distinctive. The competition in the online shopping sector is fierce, so you need to fight for your target audience's attention. This is why many retailers opt for Shopify custom theme development.
If you wish to develop an exclusive Shopify theme for your shop, partnering with a professional company is the easiest way forward. WebMeridian has the experience and expertise when it comes to building eCommerce sites.
With a primary focus on client's tasks, we apply creative approaches and breakthrough technologies to arrive at the perfect solution. We can seamlessly install your Shopify theme or customize it to match your preferences. We will also comprehensively test it to ensure it performs optimally.
Contact us to make your own Shopify theme and embellish your shop to impress your customers with that wow factor!