Welcome to the jungle of Magento development! If you're an eCommerce venture owner, you know how essential it is to have a reliable and effective way to build your online store. Magento is a master solution that proves it continues to be on the cutting edge of eCommerce. 
However, Magento is a complex platform with many intricate details that require specific knowledge and expertise to work with effectively. 
This is where certified Magento developers come in. In this article, we'll explore the many benefits you can get when you hire certified Magento developers and why they are essential for your next eCommerce project.
So, whether you're new to Magento or a seasoned user, this guide offers an in-depth understanding of the importance of certified Magento developers for your eCommerce project.
Table of Contents
What is Magento Certification?

Magento Certifications Types

Reasons to Hire Certified Magento Developers

Make The Most of Magento With Certified Devs
What is Magento Certification?
A Magento Certification is like a badge of assurance from Adobe, signifying that a developer has mastered creating stunning and efficient eCommerce stores using the Magento platform. Think of it as a black belt in the world of coding.
But getting a Magento Certification is no easy feat. It requires a deep understanding of the platform, a comprehensive knowledge of eCommerce, and the ability to solve complex problems easily. It's a rigorous process that tests a developer's skills and abilities to the limit.
Given that these certifications have expiry dates, a developer has to renew them by doing the exam to show they still have what it takes.
The Magento certification lets you know the developer you're hiring is the real deal. They have the expertise and knowledge to deliver exceptional results on your eCommerce project. But more than that, a certified Magento developer can help you unlock the platform's full potential, making your online store more efficient, user-friendly, and profitable.
In short, a Magento Certification is not just a piece of paper. It's a mark of excellence, a symbol of expertise, and a quality guarantee. So, hiring a certified Magento developer is a must if you're looking to build a successful eCommerce store.
Magento Certifications Types
Magento's certificates are spread out to touch on all areas of expertise, from front-end development to cloud deployment. They show the holder's mastery of Magento and the ability to use its capabilities to make exceptional eCommerce experiences. 
In addition, since Adobe acquired Magento in 2018, the certificates are now recognized as part of Adobe's program, offering a broader recognition of the skills of Adobe Magento certifications.
The most well-known types of Magento certifications include the following:
Magento 2 Solution Expert/Specialist
It is intended for business analysts, consultants, and project managers who want to show their prowess in Magento 2. The topics covered here include things like Magento 2's architecture, functionalities, and user value.
With this certificate, a developer understands Magento 2's operation and is fully equipped to give recommendations on solutions aligning with a business's needs.
Magento 2 Certified Associate Developer
This development accolade shows a developer's know-how of the platform's fundamental principles, like customization methods, database changes, and UI tweaking. 
The Magento 2 Associate Developer certification focuses on underlying developmental concepts that bring together:
Magento 2 architecture and components

Basic customization and coding tricks using Magento 2

Database schema and data models

Magento 2 checkout and payment procedures.
By obtaining M2CAD certification, individuals demonstrate their capability to develop essential Magento 2 elements, including what they understand about Magento 2 best coding practices and built.
Holders can work as Magento 2 developers and contribute to building and maintaining eCommerce projects using Magento.
Magento 2 Certified Professional Dev
A Magento 2 certified expert developer gains the mastery of the platform and takes this exam to showcase developing expertise. The exam covers advanced topics like performance tuning, caching, debugging, and testing and deploying best practices.
To earn the Magento professional developer certification, developers must excel in a 90-minute exam that covers topics such as Magento architecture, implementing modules, and customizing elements.
The Magento 2 Certified Professional Developer exam shows that developers strictly grasp the best developmental practices. The ideal techies for the test are principally developers who regularly work with Magento 2 and have a firm mastery of the technology stack and DevOps processes.
Magento 2 Professional Developer Plus
If you're scouring the internet for a skilled developer to build complicated eCommerce solutions on Magento, consider someone with the M2PDP certificate. The certificate is meant for the highest level of Magento developers who have demonstrated a mastery of advanced development approaches and an in-depth grasp of the architecture.
The certificate holders are highly skilled and experienced, having already cleared the M2CPD exam and worked to create complex Magento projects for at least 24 months. They understand Magento Open Source, Magento Commerce Cloud, and Magento Commerce Enterprise and are proficient in performance optimization, scalability, security, and integration with third-party systems.
To round out their skills, the professional developer plus graduates demonstrate their experience managing a team of developers or leading a development project.
Magento 2 Front-End Dev
Business bosses looking to engineer an appealing, user-friendly storefront on Magento 2, hiring a Magento 2 Front-End Developer with a certificate is the way to go. This certificate demonstrates a candidate's prowess in customizing/tailoring Magento storefronts' look, feel, and functionality with tech such as HTML, JavaScript, and CSS.
The test aims at topics that include Magento 2 front-end architecture fundamentals, layout customization, theming, and responsive design. The certificate holders should be able to integrate third-party features and tailor the shop's face by leveraging the Magento UI library. 
A Magento 2 certified front-end developer understands the best Magento practices in front-end development to offer unique, tailored solutions to enterprises and consumers. Hiring a certified Magento 2 Front-End Developer means enterprises feel at ease when developing the shop and user experience that accompanies it.
Magento 2 JavaScript Developer
To earn this certificate, a developer has to demonstrate their skills to design, implement, and tailor Magento 2 JavaScript elements, following the best practices.
The test evaluates the candidate's ability to develop Magento-two themes, tailor them using JavaScript, debug JavaScript in Magento 2, and implement JavaScript modules and widgets in Magento 2 (with the capability to customize and configure them). 
Earning the Adobe Certified Expert in M2JD certificate requires candidates to comprehensively master modern JavaScript development, including advanced concepts such as object-oriented programming and JavaScript module bundlers. 
The candidates' abilities to apply their know-how to developing Magento 2 JavaScript elements are tested.
The Magento 2 JavaScript Developer certificate is ideal for front-end developers focused on Magento 2 development and those who want to add modern JavaScript development in the context of Magento 2 to their skill set.
Magento 2 Cloud Developer
Magento 2 Cloud Certification exams are taken by developers specializing in creating and maintaining Magento Commerce Cloud implementations. It certifies the developer's ability to deploy and manage cloud-hosted Magento stores.
Developers are tested on cloud architecture, deployment, and infrastructure management topics, including Magento Cloud tools and services. It also tests the candidate's proficiency in configuring and managing cloud environments, security, and performance optimization.
A Magento-certified professional cloud developer should be able to deploy, run, and tailor /optimize cloud-hosted stores.
Success Story of Italy-Based Sports Store with Magento
View the Case
Reasons to Hire Certified Magento Developers
Why settle for a mediocre site when you can have an exceptional one? Hiring a competent Magento developer can take your eCommerce website to the next level, ensuring it's reliable, secure, and innovative. 
Certified developers can set up a website that meets your unique specifications and is well-designed to help your enterprise thrive, given how well they have mastered the platform, consistently implement best practices, and access cutting-edge eCommerce technologies and trends. 
Let's talk about what you get when hiring Magento certified partners.
1. Expertise
Certified Magento 2 developers understand Magento's complex architecture, key elements, and modules. They learn about routing, models, views, blocks, controllers, helpers, and other vital elements of Magento's architecture to help businesses develop and maintain high-quality eCommerce websites that are scalable, secure, and geared for performance.
Certified candidates internalize crucial skills essential for eCommerce website development, including proficiency in PHP (Magento's primary programing language) and MySQL (the database system used by Magento) and the prerequisite skills to design and optimize databases for eCommerce applications.
They can leverage Magento's API to integrate with third-party services and systems like shippers, payment providers, and marketers and use Magento's built-in features, including product management or customer management, to build efficient operations.
2. Innovation
Certified Magento 2 developers remain updated with new eCommerce technologies and changes. You can bet on them for the best software development tools, coding tricks, and high industry standards. This knowledge enables them to develop and implement innovative strategies that keep your business venture competitive and on the bleeding edge. 
For instance, certified Magento developers can adopt new inventions like machine learning, artificial intelligence, and chatbots to improve the user experience and drive sales.
Furthermore, certified Magento developers have experience creating extensions and unique modules to add functionality to the site. These customizations can set your website apart from competitors and give your customers a one-of-a-kind experience.
3. Support
Certified Magento developers can quickly get advice from the Magento expert community and designated customer service team. Such access is crucial to resolve website problems, including security concerns, technical difficulties, configuration issues, etc. 
In addition, certified developers are familiar with Magento's support documentation and can leverage it to provide more efficient solutions to issues. This helps reduce downtime for your website and ensures that the solutions implemented align with Magento's best practices and guidelines.
4. Quality Assurance
A Magento 2 certificate holder is trained to follow Magento's best practices and high standards in quality when developing and maintaining eCommerce websites. This includes ensuring the website is secure, scalable, and performs efficiently.
They also ensure that the site follows Magento's coding best practices, which makes it easier to maintain and extend over time. Certified developers also learn how to run the website through the wringer in testing to identify and fix any bugs or issues before the website goes live. This ensures that the site meets or exceeds Magento's specifications and provides a high-quality experience for users.
5. Cost-Effectiveness
You pay for efficient and effective development when you hire qualified Magento 2 developers. Certified developers can often complete milestones speedy and more accurately than non-certified developers, resulting in cost savings for your enterprise. 
Additionally, certified developers are less vulnerable to making mistakes or encountering issues that could result in costly downtime or data loss, saving you money and protecting your reputation in the long run. Furthermore, certified developers are trained to follow best practices for eCommerce development, which can save you money by avoiding costly mistakes when inexperienced developers attempt to create complex eCommerce solutions. 
For instance, Magento certified developers are knowledgeable about security and can help protect your website from potential breaches or attacks, which could result in costly data loss or legal liabilities.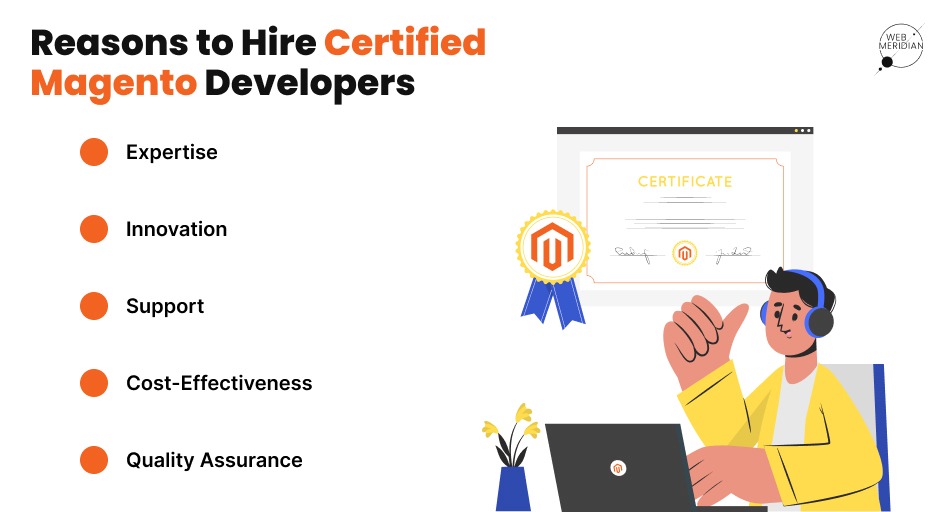 Make The Most of Magento With Certified Devs
Having a Magento certification is a valuable asset for developers who work in eCommerce. It signifies a level of expertise and experience that can translate to improved website performance, customer satisfaction, and increased sales.
When you hire Magento 2 certified developers, you can be confident that your website will be in the hands of professionals who are up-to-date with the latest eCommerce trends and innovations.
Additionally, their knowledge of the Magento platform and its best practices can help you create a website that not only looks great but also runs smoothly and efficiently.
At WebMeridian, we pride ourselves on our certified team of Magento 2 developers who are dedicated to creating top-notch eCommerce websites for our clients. Contact us today to learn more about how we can help you build a successful online store with the help of a Magento-certified company.