War for IT companies is not only a challenge and a stage of dramatic changes. We want to share with our customers the story of how our team has come a long way from February to today and retained the power and thirst for work! 
Let's dive deeper into WebMeridian's challenging as well as full of inspiration way in 2022.
Ukrainian IT Sector in Wartime
The rapid development, thirst for continuous improvement and warm working days in the office with the team were momentarily stopped by the rage and aggression that thoughtlessly invaded our country.
Most of WebMeridian's employees were located in Kharkiv, so for the safety of each member and to resume work on projects, our CEO helped the team relocate to relatively calm places. 
"People are a great strength at WebMeridian." Thanks to its core value of people, our company managed to get back on its feet quickly.
The adaptation period for the company lasted about a month and a half. During this time, we managed to relocate equipment and important things from the Kharkiv office to the newly created Chernivtsi office, and most importantly, people found themselves in safe cities. By the end of March, 80% of the team was distributed to calm regions of Ukraine and abroad and resumed stable work.
"The Kharkiv office existed until mid-April 2022, after which a rocket flew near the building on April 17 and destroyed almost the entire office. It partially survived. The office in Cherkasy had to be permanently closed," the CEO mentions.
Although the team said goodbye to the two offices, confidence in fruitful joint work and hope for a meeting in the new office did not subside. And so it happened – the Chernivtsi office is now a place for work and warm team meetings. Moreover, our team actively works on the Kharkiv office reopening in 2023.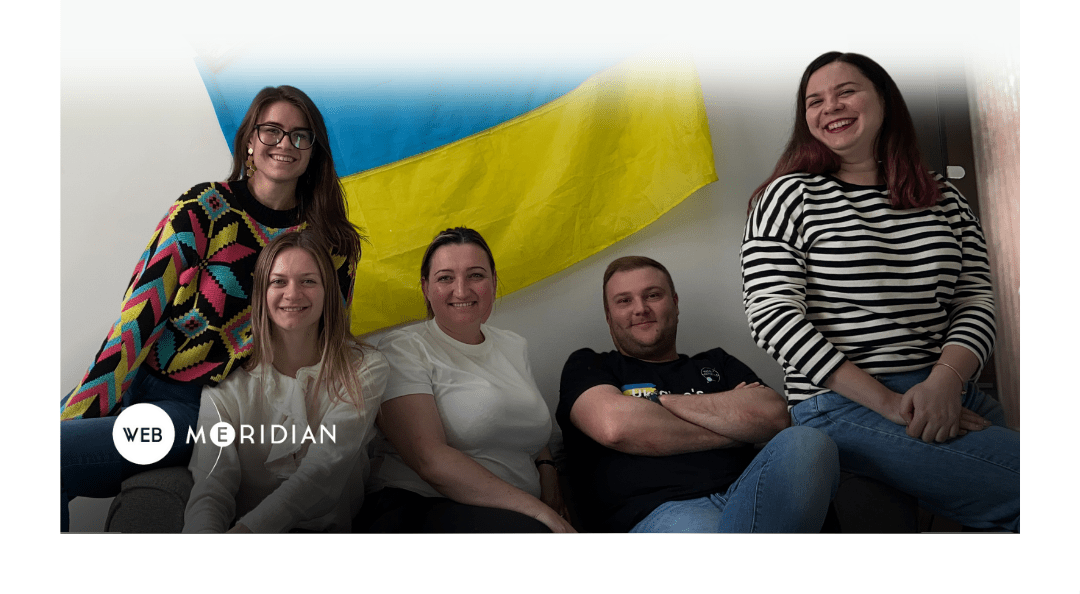 Summer was the main stabilization stage in the company — a period of awareness and anger, which grew into a thirst for restoration and continuous modernization.
Remote. For someone, this word sounds threatening and scary, but the team, without fear, began to adapt all work processes to this format. 
Pandemic years have taught us to remain productive despite difficult circumstances, and we won't step back.
At the end of the summer, WebMeridian not only wholly rebuilt the approach to work in a completely remote format, but also updated the merchandise in patriotic colours and sent gift boxes with patriotic content to all team members for the Programmer's Day.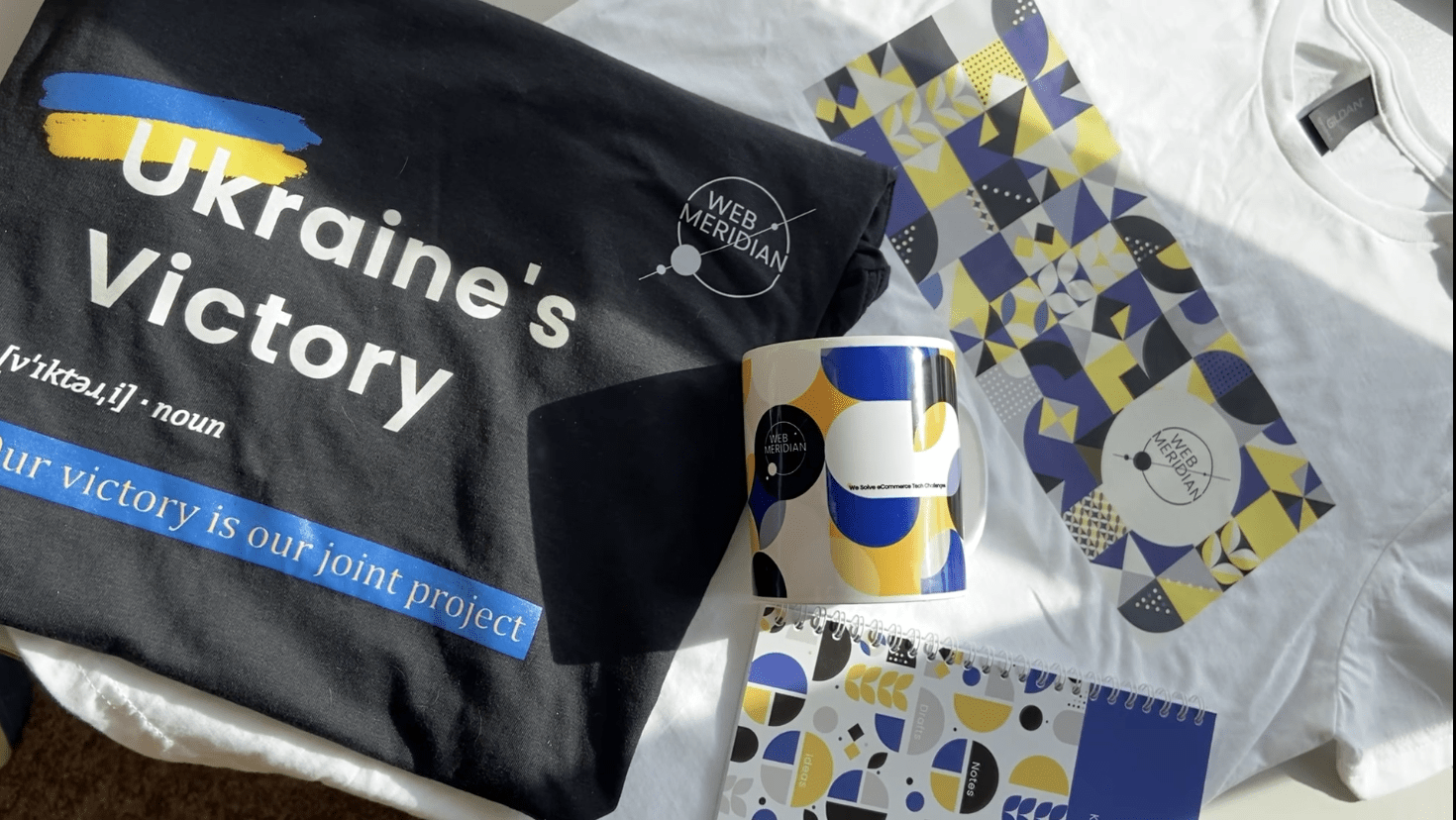 Our Story of Unbreakability | How The WebMeridian Team Overcame The War Challenges
Many international businesses choose Ukraine as their outsourcing destination for software development because of the country's solid tech education, robust expertise, clean and crisp code, competitive rates, superior outcomes, and simple contact with Ukrainian partners.
Russian missiles continue to destroy critical infrastructure, though. Planned and unexpected power outages are implemented by energy firms so that lighting may be rapidly restored in Ukrainian cities.
When cities are entirely dark, WebMeridian team members maintain optimism and discover new methods to work well despite the difficult circumstances.
Our team have become adept at building a workflow around power availability.
There are the main ways how WebMeridian keeps our team members in a stable workflow:
Offer coworking spaces for developers that work remotely (currently, each coworking in Ukraine is equipped with power generators and Starlink);

Buy power generators for our office in Chernivtsi to deal with power outages;

Provide team with Starlink systems for stable internet connection.
Every challenge can be seen as an opportunity, and numbers are the best way to prove it.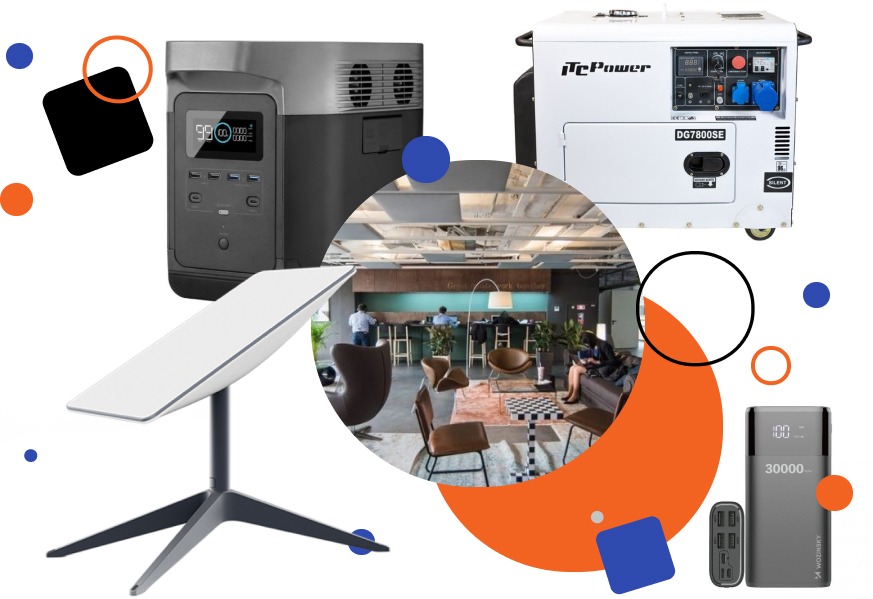 Here are a bit more details about the remote working staff:
Our employees are familiar with the locations of all nearby coworking spaces and cafés with electricity, constantly carry a power bank, and have learnt the timetable of scheduled power outages by memory.
Furthermore, we figured out that no time management program has ever been able to arrange work as well as a power outage. 🙂
Valuable Content Our Experts Written Despite The War:
Blackout and WebMeridian Devs' Stable Work
Explore how Ukrainian Businesses work during the war (the full-scale invasion on 24th February 2022).
Despite the war, Ukraine's IT sector performs admirably. IT industry dominates Ukrainian exports and has a significant economic impact on the country. Here are some statistics that demonstrate the current stability of IT outsourcing in Ukraine during the war.
Increasing revenue. Ukrainian IT services contributed $2 billion in export income in 2022, a 28% increase over 2021 in their percentage of export profits.

Incoming projects. Since the start of the full-scale invasion, 60% of Ukrainian businesses have planned to expand their operations, and 80% of businesses have attracted new business.

Safe areas. Currently, 46% of Ukrainian IT experts are employed either overseas or in Ukraine's safer areas.

Work commitment. 84% of Ukrainian professionals have continued to work full-time without taking a break from projects.

Client loyalty. 84 per cent of Ukrainian IT firms have maintained between 90 and 100 per cent of their clients. The percentage of clients lost among the 16% of businesses that have done so is under 10%.
To sum up, Ukraine's IT sector's adaptability has demonstrated its commitment to dependability, high-quality output, and strong work ethics.
What Is The Situation In Ukraine Right Now?
Together with our developers, WebMeridian contributes to the military and humanitarian help.
At the beginning of the war, we were involved in raising money for the following:
purchase of ambulances along with the

Kharkiv IT Cluster

;

assistance in purchasing generators for the Starlink system for the Kharkiv Kraken unit;

organized fundraisers to help military volunteers who are family members or friends of our employees.
Currently, WebMeridian treats holidays with love and a desire to help.
"All our events are now held in the format of charity events. For example, we hold charity events to support the Armed Forces of Ukraine, such as a Halloween charity auction," the HR manager reports.
WebMeridian members are sure this is the best celebration in the current conditions.
We are working towards strengthening the Ukrainian economy in response to the severe impacts caused by the war. Join us at this frontier.
Now we are stronger than ever, #ukrainewillresist!
So, by outsourcing your software development work to Ukraine, you'll not only receive a highly skilled staff, but you'll also be assisting in the global recovery from the present political and economic crisis.
How WebMeridian Team Participates In The "Victory" Project | Life In Times Of War
Want to learn more about our workflow, rates, and CVs or ask Business Development Managers a question?  We are available to assist you with all of your eCommerce and business needs.