The world and its many languages are the playgrounds for online retailers, which is where Magento multi language features come in.
A multilingual website is necessary since expanding your business may need you to operate in several different nations (s). Localisation may be as easy as translation or might take a more complicated shape to ensure that your message is delivered coherently and in accordance with your audience's conventions.
The process of offering a website tailored to a certain nation or locality necessitates some Magento design and development services/skills. As we discover how to create multi language website in Magento 2, we find out that it involves not just language but also features, design elements, and content.
In this guide, we will cover:
Magento multi language and currency setup

Market ready solutions

Country-specific regulatory requirements

Geo-targeting

Market-specific design

Marketing and promotional features, among others.
Let's get started!
Table of Contents
Magento Multi Language Websites: Step-By-Step Guide + Common Pitfalls

Language & Currency Configuration

Off-The-Shelf Solutions

Legal and Regulatory Requirements

Proper Design for a Specific Market

Appropriate Shipping and Payment Options

Geo-Targeting

Marketing & Feature Promotion

Search Engine Optimisation

Additional Country-Specific Elements/Details to Remember

A Quick Checklist for Localisation

Key Takeaways
This post is essentially a checklist that will help you prepare for multilingual eCommerce by outlining what you will need to do when starting a localisation project.
But doing it is neither cheap nor simple. As such, a plan is essential to guide your activities during localisation. You must bear in mind the vital items on this list. Depending on your budget, you might begin with the most minimal necessities, such as Magento multi language extensions, and gradually add more components.
Here is an overview of the importance of localisation before we continue.
Translating your website into a language that is spoken by your target audience is the first step towards localising it. You're in luck since Magento includes features that let customers build several shops with individual customisations inside a single installation.
You would create a Store View for each if you were to grow into Finland and Germany, for example. You have total visibility at this Store View level and complete control over the design, language, and currency. This format is generally how you utilise Magento 2 to create multi-language stores with customisable elements.
You'll need language packs from Magento Connect (in our example, German and Finnish) in order to add translations.
You must manually translate the content using in-line language translation after translation with packs, or you may utilise language files that you or your team have already created. We advise you to look into Magento multi language extensions since they may assist you in running a multilingual website.

Language & Currency Configuration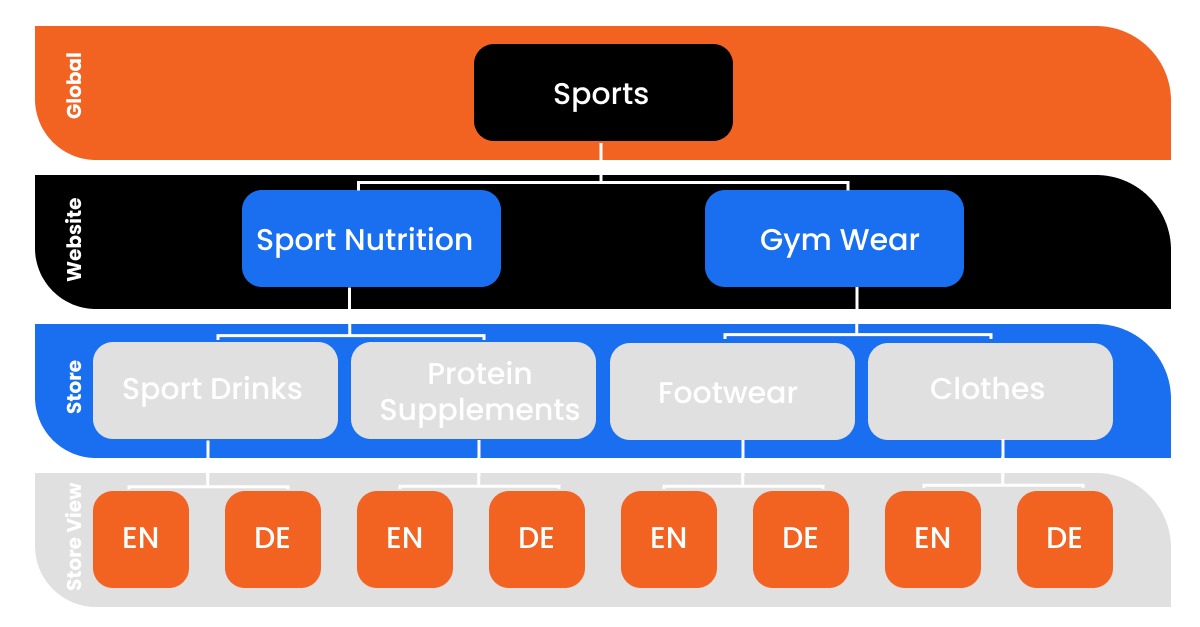 Example of Multilingual eCommerce Site
Examining the market for custom-ready multilingual eCommerce solutions is essential when modifying your website to match special requirements on the Magento platform. You might attempt to translate the website yourself or see whether the chosen language has a translated version already.
Creating a localised version of Magento for the Polish, Spanish, Italian, French, Swiss, Austrian, and German markets is one example.
On the admin dashboard, you can quickly configure currencies for your website. However, it will have an impact on your "many stores" concept since you will need to create a Website > Store > Store View for each site language version.
Using qualified copywriters who speak the target language for translations and knowledgeable developers is usually preferable for building up your store's currency system.
Off-The-Shelf Solutions
While the economy may be global at the moment, different countries have different rules. It includes both the laws and the traditions. However, the best approach is to focus on the compliance side of local eCommerce sites. Compliance with local legislation ensures smooth business operations.
Every nation has business regulations that you must abide by. For instance, your website must abide by tighter data protection and internet rules that apply to countries in the European Union.
In other cases, especially when it comes to nations with somewhat similar legal systems, the adjustments could only include a brief checklist. Other situations, however, call for compliance on a number of exceptional levels. However, you need not fear as there are extensions available to help you abide by the legislation, such as Seers GDPR & CCPA Cookie Consent or Responsive Cookie Consent.
Legal and Regulatory Requirements
You'll note that even for large organisations, some discernible variances in branding, feature promotion, and message are apparent if you've looked at marketing materials or product/service presentations from nations other than yours.
People are not all created equal, and that's why this is. For instance, a website that succeeds in the US could come out as overly crass and "shouty" in Nordic markets, where simplicity is highly valued.
Because translations may not always match in terms of volume and/or arrangement, it is crucial to analyse the language. For instance, Chinese letters are more minor than English ones and are written from right to left, but Arabic and Hebrew are the opposite.
Proper Design for a Specific Market
How to create multi language website in Magento 2? Dive deeper into Nescafé's case.
Few companies have developed as many original layouts and designs as Nescafé. The business has invested the time to thoroughly research the subtle differences between each market in order to provide fully translated and localised websites that will have the greatest impact on each target audience.
Customizing the home page functionality is superbly done by Nescafé. Depending on the country's website you are on, the homepage has very well-designed visuals that vary somewhat.
INTENSO is being marketed as the "new BLACK" on the website for Mexico, which also has some interactive elements on the front page (with pleasant bonuses.)
Visitors are drawn to the UK and French websites to start their days with a NESCAFÉ. Nothing is more crucial than getting each day off to a good start because life may be stressful.
The site of Uranian has a cosy feel thanks to the Nescafé goods. All of the photographs are vibrant, alive, and filled with colour.
In conclusion, the difference between the websites for the various mainlands, which have completely distinct aesthetics, layouts, messages, and cultural components, is astounding.
One of the Best Localised Websites is Nescafé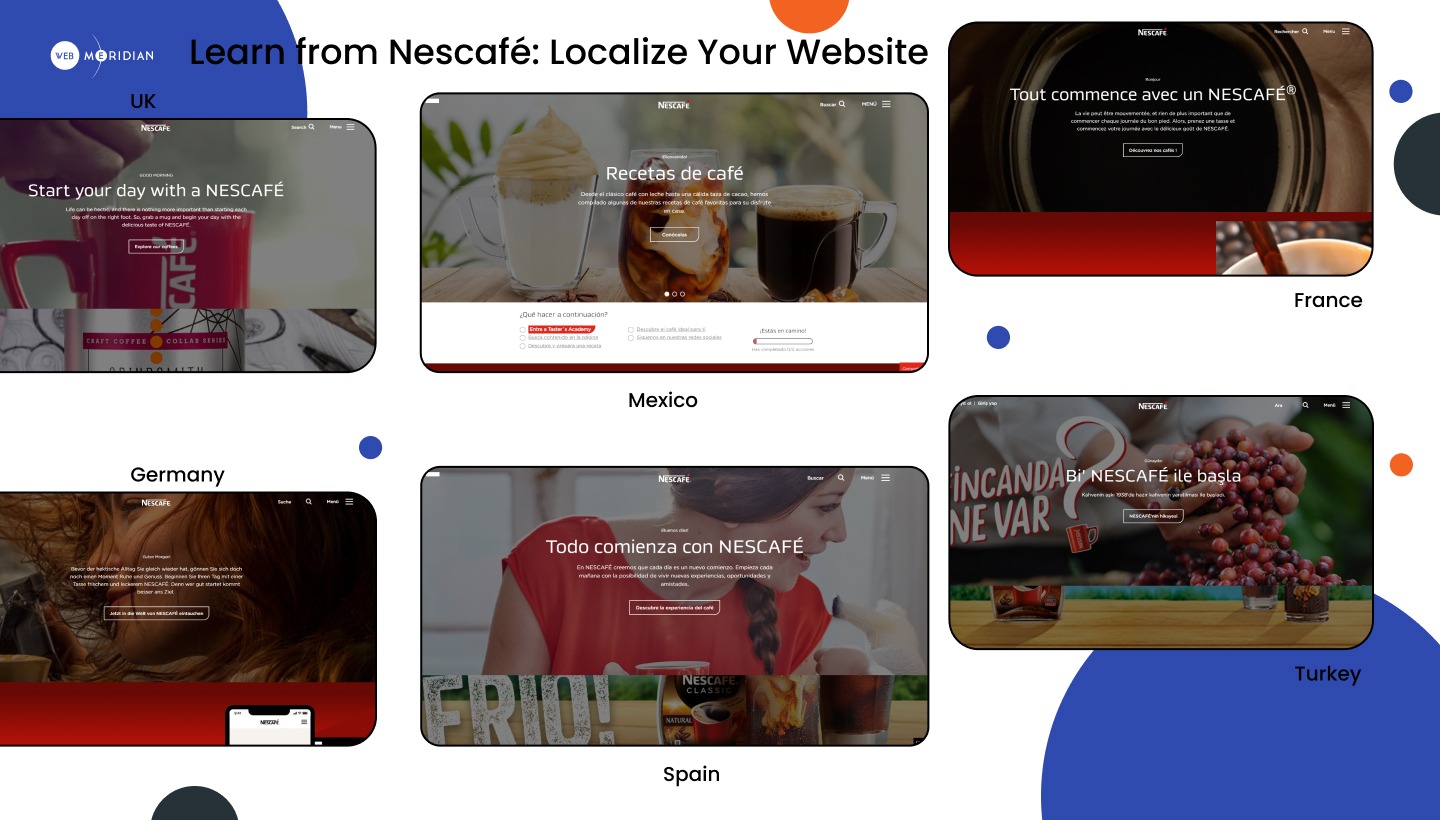 As familiarity is soothing, it ought to be included in your eCommerce site architecture. Your cart abandonment will be greater than it should be if customers can't locate the payment and shipping choices they are used to. People prefer utilising existing, tried-and-true systems to having to subscribe to new ones because it is more convenient.
Depending on what is practical and standard, multiple payment methods are frequently used by nations. For instance, Colissimo is more prevalent in Italy than DHL in Germany regarding shipping. While many Scandinavians prefer "cash on delivery" purchases, Nordic nations prefer Klarna for payments.
Your checkout will be improved by learning which delivery method and payment gateway are selected.
Appropriate Shipping and Payment Options
Choose The Best eCommerce Shipping Solutions and Options for Your Store
Read On
The best course of action is not to need customers to select their nation or to search for a language switcher before asking them to do so. 
You will find it helpful to know the nation that a site visitor is in a while learning how to develop a multilingual website in Magento 2. It entails identifying the visitor's nation of origin and immediately presenting the relevant webpage.
The website appears with the relevant shipping choices, offers, prices, and other information. Numerous geo-location plugins for Magento show the proper webpage. They include GeoIP Store Switcher and GeoIP Currency Switcher, among others.
In order to give customers friendly alternatives, stores, and services, these extensions may pinpoint geo-locations to the city and post/zip code level.
You may need to provide clients with the choice to choose the language or country in which they want your business to appear. 
Geo-Targeting
Every company must use a distinct marketing strategy or advertise goods or services. The variances change not just from company to company but also from nation to nation. You wouldn't advertise yourself the same way in China as you would in the US.
Geo-targeting is useful for multilingual eCommerce since it enables you to identify which nations have the most incredible rates of online crime and take various precautions or avoid them altogether when dealing with issues like fraud.
The key idea here is that client demands differ from nation to nation. Always pay attention to how they prefer to be communicated with and adapt accordingly.
Numerous built-in options in Magento may assist you in marketing and promoting your products to a variety of consumers in the format that you like.
NOTE: As you purchase Magento multi language extensions, keep in mind to take note of how the calendar functions to ensure you do not miss out on occasions when you may provide feature deals and advertise yourself even more.

Marketing & Feature Promotion
The sites you own that are operating in new or different areas ought to be optimised just like any other site you run. In order to reach the targeted audience in that nation, all SEO components must be included in your website.
People prefer to utilise the Baidu search engine in some nations, such as China; therefore, you'll need to optimise for it. Each engine's unique requirements should be studied to make sure your name appears when people search.
Search Engine Optimisation
Magento SEO Tips in 2023 Which Help Increase eCommerce Site Visibility
Read On
Dates:

In the US, dates are expressed by writing them as MM-DD-YYYY. However, DD-MM-YYYY is preferred in Europe.

Calendars:

The week in the USA begins on Sunday, the week in the UK on Monday, and the week in the Maldives on Friday.

Local social media:

If you're utilising local social media to sell yourself, don't forget to use regional platforms, such as Weibo/YouKu in China, and Hyves in the Netherlands.

If you have physical locations,

it is usually a good idea to show the ones that are nearest to your consumers or to give them the option of selecting which area they want to purchase from.

Customer care:

Various markets demand various forms of customer care. Recognise their preferences and utilise those to configure support.

Local trust marks:

A trust mark that is accepted in one nation may not be in another. As a result, local trust marks are crucial to reassuring locals that your company is reliable.
Depending on what is needed, there is more to adjust and update; therefore, you will want a number of Magento multi-lingual extensions.
Additional Country-Specific Elements/Details to Remember
Do you have…?
suitable logos, branding, and design

a properly translated and proof-read website

site-wide localised and relevant content

regional media (video, audio, graphics, photos, etc.)

operational local payment techniques

regional product listings

time zones in the area

appropriate formats (numbers, dates, layouts)

stable domain architecture

proper units (temperature, weight, mass, area, and volume)
As you advance in localisation, additional solutions that are tailored to your company become available. You can take on any difficulty head-on and find an answer if you have the right team.
A Quick Checklist for Localisation
When in Rome, do as the Romans do!
The takeaway from this is that a localised Magento multi language website is a fantastic method to reach a very specialised target. Many people launch enterprises following market research. However, if you decide to grow, the original study could only apply to one audience group and not necessarily to another.
You might wish to interact with new audiences about your company more successfully for these and other reasons.
The use of localisation is thus necessary. Making local eCommerce sites helps your company connect with highly targeted clients.
Suppose you want some localisation work done correctly. The best options are available on WebMeridian, so check there. Teams may be formed, ideas can be generated, implemented, and even their operations can be managed.
Please get in touch with us to learn more about how we may help your company become optimised for a specific location. We deal with companies of all sizes and have served both emerging and well-known/established brands.
Key Takeaways
Magento Multi Language FAQs
Does Magento support multiple languages?
You may construct several store views in the language of your choosing using the capability that Magento by default offers for shop views. Your Magento store may handle different languages since you can define the languages.
How do I set up multiple languages in Magento?
Language and currency setup; Market ready solutions; Country-specific regulatory requirements; Geo-targeting; Market-specific design; Marketing and promotional features, among others.