How much does Magento eCommerce cost?
You might call it "blood, sweat, and clenched teeth." On the other hand, this blog post will be more practical, with a focus on statistics and our own experience with Magento eCommerce costs.
Creating a Magento website needs unique qualifications. Developers that can complete this work charge varying fees. This cost is determined by the type of site you expect. An online store with a simple checkout process will be less costly to build. A website requiring a greater feature set will cost more since it will require more development.
Magento eCommerce Cost | Comparison of 3 Options
The total cost of the Magento eCommerce website includes developers' hourly rates (30$-60$) as well as the scope of work required.
Every Magento eShop needs to have the crucial feature set in order to function correctly. Let's take a look at the tasks that your online business will require:
Step #1. Requirements Investigation Stage
(it usually takes nearly 20-40 hours)
It is a crucial milestone that aids in clarifying your specific requirements and the functioning of your online business.
Step #2. Design of the Project's Architecture 
(nearly 40-80 hours)
At this step, the team of Adobe Certified Experts considers the overall project core and architecture.
Step #3. Installation of Magento 2 
(1-2 hours)
Following that, you will receive Magento 2 out-of-the-box capabilities that will require customisation.
Step #4. Implementations of the Backend
(needs at least 200 hours and depends on customisations you may need)
Module installation, custom module creation, API development, and third-party integrations are common.
Step #5. Implementations of the Frontend 
(starts from 200 hours)
It covers the installation of a theme as well as the creation of a custom theme. A project of this nature should take between 1000 and 2000 hours to complete.

Website Development From Scratch
Migrating from Magento 1 to Magento 2 takes about 50 to 790 hours or an average of about four months.
The importation of your previous data takes about 20 to 80 hours.

Migrating compatible third-party extensions only takes a few days, about 10 to 60 hours.

Non-compatible extensions usually take longer but still work in the same range.

Setting up the theme takes a long time, ranging from 20 to 450 hours.

The customisation of codes usually takes about 20 to 200 hours. It depends on the code used in the previous version of the Magento.

However, the installation of Magento 2 can take up to 2 days to complete.

Testing the new version should take at least a week to complete, depending on the user's taste, but the average time for the project is about 150-250 hours.
Read more about Magento eCommerce Cost in this option via the link.
Magento 1 to Magento 2 Migration Cost
What customisation encompasses as an action. Customisation is required if you need to rebuild or replace particular default features for your company's needs. This necessitates more developer effort and may be accounted for as extra development hours.
You may change the theme, modules, and shop features like goods, orders, search, login, and checkout. You may also contact us to adapt any feature for your shop and enable you to understand the prices based on our estimates. A tailored solution ensures that you do not squander money on features and capabilities that you do not require.
Magento 1 to Magento 2 Migration Cost and Timeline
Read On
Magento developer costs in Ukraine per hour can range from $35 to $55. The actual rate will depend on several factors. 
One such aspect is your Magento store's development requirements. A simple shop with less technical development would be less costly, and vice versa.
Another consideration is the developers' location. For the same work, various developers may charge different fees. Their rates are determined by the country of origin of the developers. Some locations, such as the United States and European countries, may have larger rates than Ukraine or Poland. It is determined by the global market and the country's tax system.
In addition to the pricing, we suggest you consider a web developer's expertise and capabilities. Some abilities can only be learned via experience. You may verify it by asking for the developer's CV and portfolio, conducting a face-to-face interview, or participating in several free trial hours.
Magento Development Hourly Rates
Since Magento provides a wide variety of native features, you may require adjustments or be better suited for Magento's corporate edition. The following are some significant aspects that will influence the eСommerce site development cost and your choice:
Size of your business: This will have a direct impact on your experience and budget for Magento development costs. If you own a small or medium-sized business, you may want to explore Basic or Custom. If you are a large corporation, you may select the Enterprise kind.
Approach

: You must determine whether to develop a new one or re-platform.

Third-party integrations:

If you intend to integrate, you must estimate the number of third-party platforms which will be integrated into your Magento 2 site. Dropship, ERP, accounting, shipping, and PIM systems are examples of third-party systems.

SKUs

: This directly impacts the custom

eCommerce website development cost

. As a result, you must determine how many SKUs you will need to accommodate.

Design: eCommerce platforms such as Magento, Shopware, Shopify, and WooCommerce have a bespoke theme (template set) as well as a paid theme. You'll have to determine which one your site requires. You must also decide whether to employ sophisticated mobile templating, such as adaptive templates, custom data sets, and AMP sites.
Migration

: One element to consider when assessing

eСommerce site development cost

is your website's capacity to manage sophisticated data migration. Data normalisation, customer integration, price data, product data (custom/configurable/group products, dimension data, rich data), and data manipulations are all part of this feature (cleaning, merging, updating).

Fulfilment:

Order fulfilment is a must for all online businesses. As a result, this aspect significantly impacts

eCommerce site development costs

. You must consider whether your website requires the management of sophisticated shipping rules, such as warehouse shipping setups. You must also explore payment alternatives, which will directly impact your income. Gift cards, sophisticated tax pricing extension, tax settings, and various currency support are examples of payment choices.

Marketing:

You must define your marketing integration requirements, such as email integration, autoresponders, and social media integration, among others.

What Are the Other Major Factors That Influence Pricing?
| Expense Item | Magento Open Source | Magento Commerce | Magento Commerce Cloud |
| --- | --- | --- | --- |
| Magento edition cost | - | $22000-$125000/ year | $40000-$90000/ year |
| Hosting | $100-$500/ year | $500-$6500/year | - |
| Domain name | $10-$400/ year | $10-$400/ year | $10-$400/ year |
| SSL certificate | $50-$300/ year | $50-$300/ year | $50-$300/ year |
| Store Design | $0-$5000+ | $0-$5000+ | $0-$5000+ |
| Magento Development | $1800-$10000+ | $10000+ | $10000+ |
| Extensions | $60-$600+ per one | $100-$600+ per one | $100-$600+ per one |
| Payment providers fees | 2.9%+$0.30 per transaction | 2.9%+$0.30 per transaction | 2.9%+$0.30 per transaction |
| SEO & Promotion | $5000-$20000+/ year | $5000-$20000+/ year | $5000-$20000+/ year |
| | | | |
Option 1: Do everything yourself
If you have a lot of spare time and want to understand the back end of your Shopify business, going it alone may be a lot of fun and highly gratifying because you'll be learning new things and developing new abilities.
Total cost
Shopify subscription = from £22   per month
Design = your time
Development = your time
Option #2: Hire a Shopify expert to create a minimum viable product (MVP) or a basic website.
An MVP website is a terrific method to get your online presence up and running without having to invest a lot of time and money in the process.
Total cost
Shopify subscription = £22   per month
Template price = £39 – £195 one-off
Developer price = £1500 – £2000 one-off
Option #3: Hire a Shopify expert to create a one-of-a-kind small-to-medium-sized website.
The cost will be determined by the number of pages on the site and the necessary customisation level. Custom graphics may add a wow element to your Shopify site, but they cost you more. Dynamic effects sometimes need a significant amount of effort and will not be inexpensive.
Total cost
Shopify subscription = from £22 per month
Template price = £39 – £195 one-off
Developer price = £2500 – £5000 one-off
Option #4: Hire a Shopify Developer to create a massive, wholly customised website.
As a result, large-scale project development might take months, depending on the complexity of the construction, which can eventually affect your company's web development expenses.
Total cost
Shopify subscription = from £22 per month
Template price = £39 – £195 one-off
Developer price = £6000 – £12500 one-off
Our recommendation is to hire a professional.
Because, as of 2022, establishing a trendy, professional Shopify eCommerce website that really produces revenue for your business is much more complex and time-consuming than you may imagine.
You'll need to hire a WooCommerce developer or a specialised team if you want a totally custom-developed shop, either constructed from scratch or utilising a theme and then custom modifying using CSS. Developers typically charge $35-$50 per hour. We've had clients come to us after being duped by a developer for a theme that was then altered with custom CSS for up to $15000.
If you're willing to go with a completely customisable theme, though, it will be less expensive. Realistically, depending on the size of the business and the other features you want, the WooCommerce website development cost is $600-$2000 at most. Still, most USA firms will charge more than that, plus some additional fees on top. In order to know the WooCommerce development cost for your projects, get in touch.
Every eCommerce business owner wants to save expenses wherever possible, and Magento support price is no exception. At the same time, cost-cutting measures should be pretty sensible because there is a set of necessary support services that you must constantly conduct in order to maintain your website operating at peak capacity.
How Can You Reduce the Cost of eCommerce Site Maintenance and Support?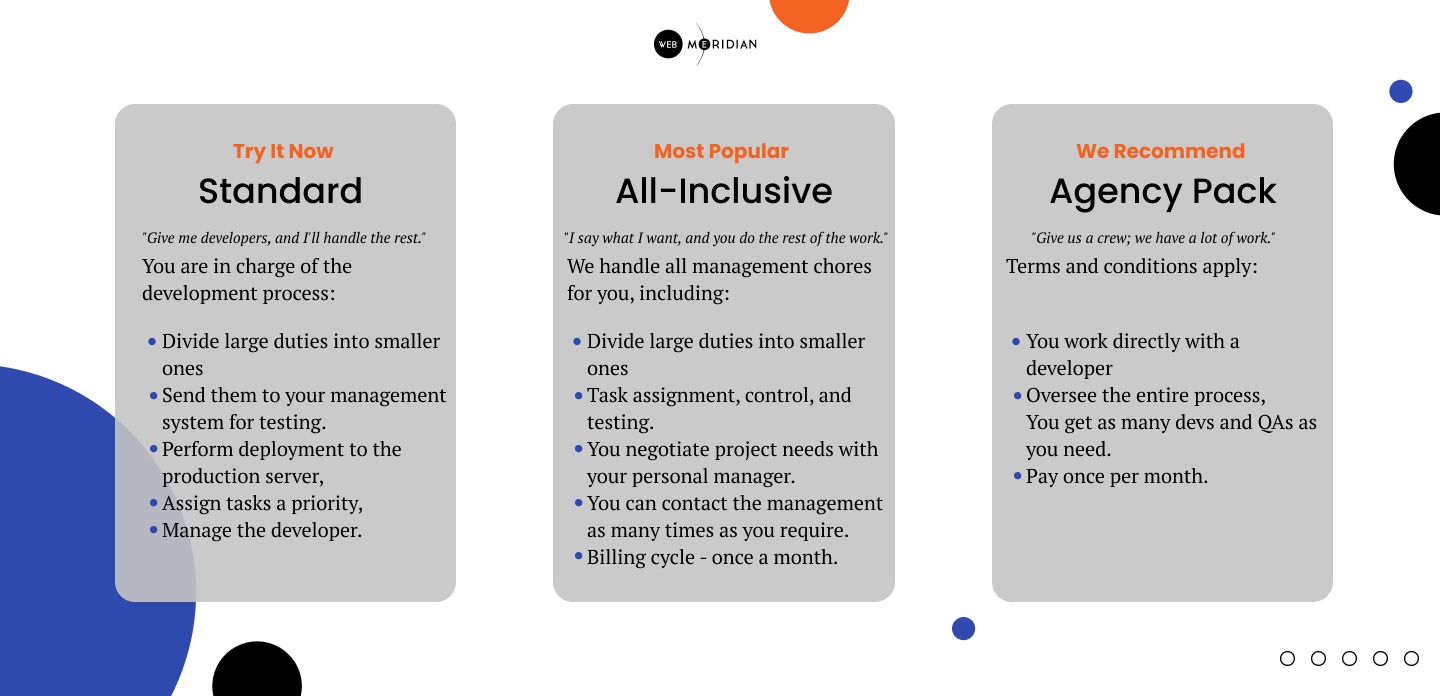 It's crucial to remember that even if you have a support package and, of course, guaranteed hours, you may still receive a Magento support cost that's greater than planned. We aim for transparency at WebMeridian so that you always know what to anticipate.
With years of expertise in Magento website maintenance, we've heard numerous stories from our clients about unexpected charges while working with various development firms and intermediates. Based on this, we've compiled a list of questions to ask the company's sales manager or e-commerce consultant before entering into a Magento 2 maintenance agreement for your website.
How do you create the project support estimate? What factors may have an impact on costs during our collaboration?

How do you keep my store's data safe and secure?

Whom should I contact if there are any problems with the website?

Who will maintain and/or support my Magento website? What is their experience like?

How knowledgeable is your development team?

Can you (the development agency) give me any warranties? How long can they be expected to last?

What happens when the warranty expires?

Does the price cover the cost of enhancements and updates?

How much do critical Magento 2 updates cost?

Do you provide a service-level agreement (SLA)?
Checklist of Hidden Magento eCommerce Costs
We are delighted to provide you with this guidance regarding the cost of the project on Magento 2, Shopware, WooCommerce, or Shopify. Please contact us if you want assistance in estimating your project. We will be delighted to create an outstanding online store on Magento 2 for you at no extra cost!
To Sum Up
Magento Site Development Cost | FAQs
How much does Magento website cost?
The total cost of the Magento eCommerce website includes developers' hourly rates (30$-60$) as well as the scope of work required. A project of this nature should take between 500 and 2000 hours to complete.
How much does a Magento implementation cost?
As a result, the licensing fee for a premium Magento installation ranges from $22,000 to $190,000 per year for merchants with annual sales exceeding $25,000,000. (if the cloud version is chosen).
What is the difference between Magento and Shopify?
The primary distinction is that Shopify is a hosted platform, whereas Magento is self-hosted. Shopify, for example, is a hosted platform that takes care of all your hosting concerns. All hosting fees are included in your monthly plan, so you don't have to do anything additional.